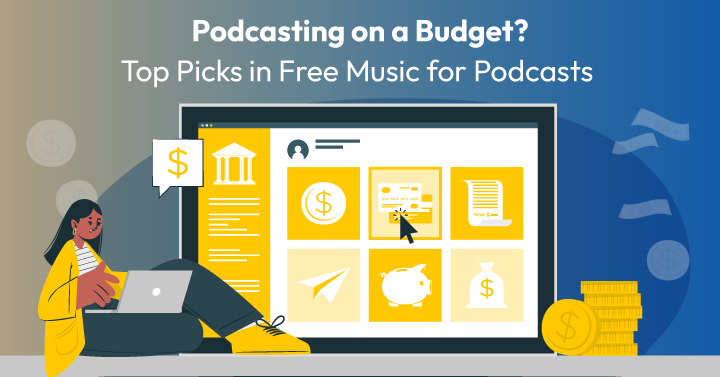 May 3, 2023

By

/

In

Best in Podcasting
Music can raise your podcast game to a new level, but the prices for purchasing tracks can be prohibitive to creators with small audiences or nascent monetization schemes. Fortunately, the internet is filled with free music for podcasts that you can download and incorporate into your show without spending a dime.
To help you find and source the right tune for your podcast, we have put together this guide on how to choose the best music to suit your topic or genre, as well as a handy rundown of several websites that have more or less extensive catalogs of free tracks.
1. How Can Free Music Elevate Your Podcasts?
Music can have a range of functions within a podcast episode. The most obvious one is probably that it affects emotional responses. This can be useful if you want to evoke a feeling of sadness, happiness, unease or even wistfulness, particularly within storytelling podcasts.More generally, music sets the mood for a show. Whether your podcast features discussions of serious topics or is a comedic look at modern life, you can signal this to listeners with a few bars of melody.
On a practical level, music can help with creating your brand. Including it in key places like the intro and outro builds a rapport with an audience and can keep them thinking about your podcast long after they've finished listening.
Another key usage of music is that it can be used to segue between sections or topics, while simultaneously providing listeners with time to reflect on what has come before.
2. 5 Types of Music for Your Podcasts
Intro music for podcast episodes announces your show to listeners and sets the tone for what is to come. It can also form a useful part of branding.
Segment music, also known as transition music, provides a bridge between sections of your show. It can also act as a sign to the audience that an ad is about to be played.
Just as intro music begins a podcast, outro music ends it. Think of it as bidding farewell to your audience, returning to the opening melody in a nicely rounded way.
Background music for podcast shows is sometimes played underneath a speaker's voice. This can be done to create ambiance or simply to add more texture to your episodes, so as to keep hold of the audience's attention.
3. 4 Things to Know While Choosing the Right Music for Your Podcast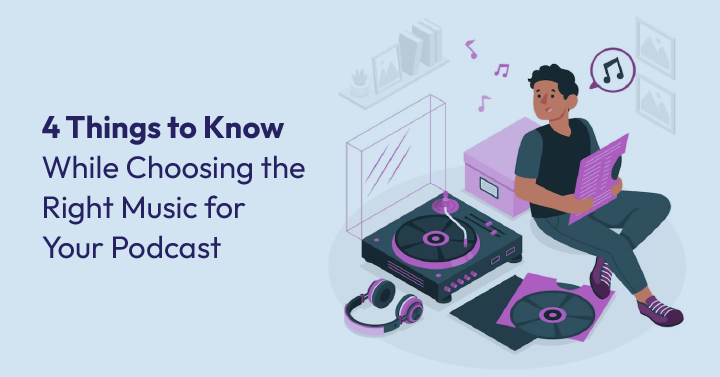 Your audience will probably have a specific type of musical taste or expect a topic on a particular subject to have music from a related genre. While you don't have to be bound by either of these factors, it does help to take them into consideration.
What kind of tone do you want to set for your podcast? Is it thoughtful or lighthearted? Narrowing the mood down can also help narrow down the many tracks of free music for podcasts available on the internet.
Particularly when it comes to background music, it should pair with the content that it's complementing. That doesn't necessarily mean it has to have the same tone – some podcasts like Welcome to Night Vale sometimes create a jarring effect by purposefully mismatching music and content.
There are several different licensing types available for free music for podcasts such as Creative Commons licensing, but there are also public domain tracks whose copyright has expired.
4. 12 Platforms That Share Free Music for Podcasts
4.1 Free Music Archive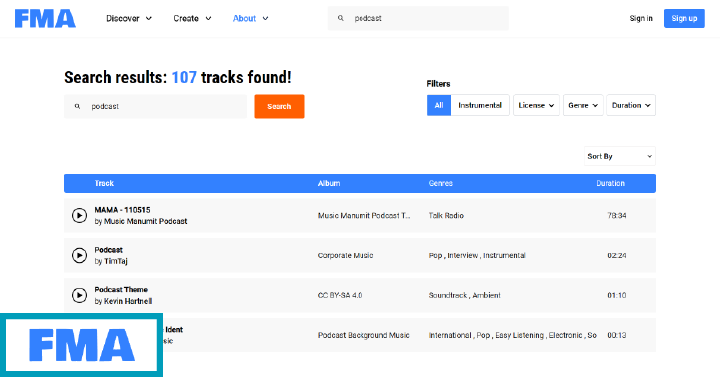 Free Music Archive (FMA) has been running since 2009 and now boasts more than 100,000 tracks. These can be filtered down by genre, with 20 categories ranging from country to electronica. You can also browse the catalog by popularity, curators and net labels, or opt for potluck using the 'artist shuffle' function.
Most of the music on FMA is licensed under Creative Commons licenses, with each track labeled with a logo that indicates the kind of usage allowed and attribution required.
FMA is owned by Tribe of Noise, which also offers a Pro tier where you can select one of four license options and download royalty-free creations from a community of music makers.
4.2 Pixabay
Pixabay is most famous for its free photo library, but the site also hosts free illustrations, free videos, free sound effects and free music. There are more than 120,000 tracks available, which can be filtered by genre, mood, movement (e.g., chasing, floating) and theme (e.g., background music, music for videos).
All material found on Pixabay can be used without attribution, and you can adapt the original work into a new piece of music as you wish. There are some prohibitions, however, including not using content in an immoral or illegal way and not using content for commercial purposes if it has any recognizable trademarks.
4.3 Incompetech
Specializing in free music alongside (rather bizarrely) graph paper, Incompetech features several hundred tracks, all composed by musician Kevin MacLeod. These pieces can be sorted by tempo and length, as well as by genre and 'feels' (e.g., aggressive, bouncy).
All the music is copyrighted but can be used free of charge as long as it is attributed according to the format specified by Incompetech.
Alternatively, you can stump up a $30 fee to use the piece without attribution, or even ask MacLeod to custom compose a piece for your podcast.
4.4 YouTube Audio Library
Video hosting site YouTube has its own audio library of tracks that can be used as free music for podcasts. The options aren't particularly extensive (under 1,000 each for music and SFX), but the quality of each track is pretty high and guaranteed copyright-safe by YouTube.
While the catalog has been put together principally for use in video creation (including video podcasts), the terms of use stipulate you can utilize the music in any content you have created, as long as it is not used in connection with any illegal content.
4.5 Purple Planet Music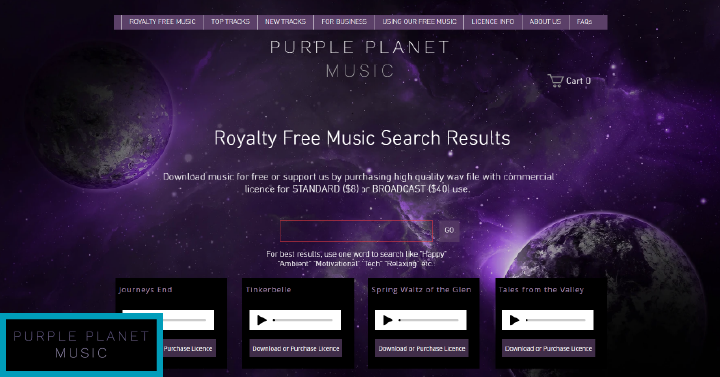 Like Incompetech, Purple Planet Music features compositions from just one source: the musical duo of Chris Martyn and Geoff Harvey. Options can be filtered by terms such as 'energy,' 'creepy' and 'chilled.'
You can download the music free of charge for your podcasts in MP3 format as long as you include the proper attribution on your podcast.
Pay out $8 and you get a higher-quality WAV file and can use the music without crediting the composers.
4.6 Bensound
There's a fairly small number of tracks – just a few hundred – available on Bensound, but they cover rock and hip hop genres as well as cinematic and action moods. The available choices can be filtered by energy level, duration and instruments.
Bensound supplies free music for video-only usage. That means you can only incorporate it into video podcasts, not audio-only podcasts. You also need to make sure you follow their clearly stated attribution rules.
If you want a wider selection of sounds or to use the tracks without credits, you can purchase a standard license for €12 that covers unlimited downloads.
4.7 SoundCloud
Popular streaming service SoundCloud has a number of channels that offer free music for podcasts. Just use the search bar to find royalty-free and copyright-free tracks that can be downloaded once you have signed up for a free account.
Terms of use vary according to each free podcast music SoundCloud account, so make sure you check the details before utilizing any of the compositions in your episodes.
4.8 Jamendo Music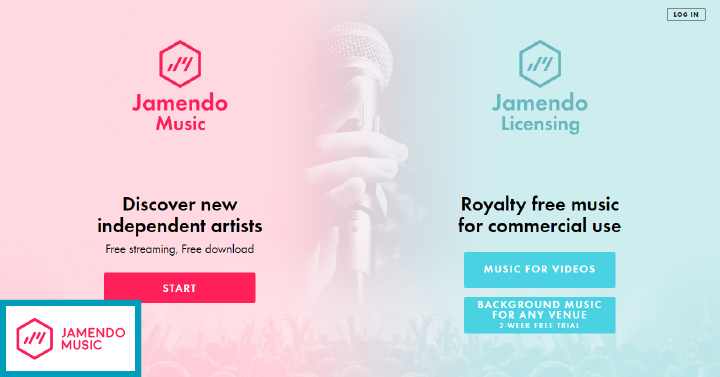 Promoting itself as a community of music lovers, Jamendo Music has more than half a million tracks from 40,000 artists on its platform. The main free music dashboard is cheerful and busy, with handpicked playlists curated according to theme and filters that allow you to find sounds according to genre and popularity.
While all the music can be downloaded free of charge, different Creative Commons licenses apply, so make sure you read the fine print.
You can also purchase a license for royalty-free music through Jamendo Licensing from $19 a track.
4.9 Musopen
Musopen is a compendium of royalty-free music recordings, complimentary sheet music and educational material related to music. The tracks are predominantly classical, featuring all the hits from Beethoven, Mozart and more. You can search by compose, instrument, period, mood, length, quality and, rather handily, license type.
Much of the library contains music in the public domain, but there are also other tracks labeled according to a specific Creative Commons license.
4.10 ccMixter
A community of playful music makers, ccMixter has all sorts of tracks, remixes and other music oddities available on its site. The main interface can be a bit confusing, so for a more streamlined experience, head over to Dig ccMixter, which is an organized archive that you can use to find a free podcast background music download.
Most of the music here can be used for non-commercial purposes with attribution, but check the specific Creative Commons license attached to a track before downloading.
4.11 Epidemic Sound
The 40,000 background music options on Epidemic Sound are segmented according to genre and mood. These are complemented by an array of 90,000 sound effects that can also be incorporated into your podcast.
Epidemic Sound offers a 30-day free trial, with any tracks that you download and use during this time covered by the royalty-free license.
After the trial, subscriptions start from $6, which allows you to download 5 tracks per month.
4.12 DanoSongs
DanoSongs is another site run by an individual composer who has opted to offer his works to the world free of charge – providing you give him proper credit for his work. There's a fairly limited selection, but it's still worth a look if you want electronic, cinematic or even vocal.
The license for this music allows for non-commercial use in any media, as well as permission to adapt and remix the songs as desired.
DanoSong doesn't offer commercial licenses, but you can tip him as a gesture of appreciation.
5. FAQs
Where can I get podcast music for free?
Free music for podcasts is available from a number of sources, including Free Music Archive, Pixabay and ccMixter.
Can I use royalty-free music on podcasts?
'Royalty free' refers to the fact that you don't have to pay royalties to a composer or musician every time someone plays your podcast. It does not mean that the track is free to use, and usually you will have to purchase a license.
How do I legally play music on my podcast?
If you want to stay on the right side of the law, check whether a piece of music is in the public domain or is part of a Creative Commons music for podcasts arrangement. Most of the sites listed above clearly stipulate what criteria, if any, you have to fulfill to use their tracks.
Can I use YouTube free music on my podcast?
According to YouTube's user agreement, music in its free audio library can be used in any media, not just video. However, bear in mind that several sites, such as Bensound, only license music for free for use in visual creations.
Can I use clips of songs in my podcast?
Yes, as long as you have purchased a license to do so. You can of course find a free podcast intro music download online, but even these will usually come with some stipulations about usage.
Can you use real songs on podcasts?
If by real songs you mean pop anthems by Miley Cyrus or rap hits by Drake, the answer is no – at least, not unless you want to pay a huge licensing fee, followed by royalties for the rest of your life.