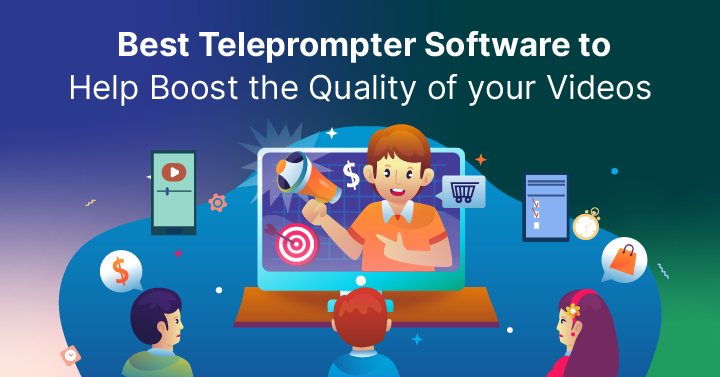 May 10, 2023

By

/

In

Best in Podcasting
Whether you're giving a virtual presentation or making a video recording, the best teleprompter software can greatly enhance your performance. These digital tools are fantastic for improving audience engagement: when you don't need to constantly consult notes or a script, you can focus purely on the quality of your delivery and maintaining eye contact with the camera.
In this post, we're going to cover some of the top software available today for your teleprompting needs. From free options to subscription services, there is something out there for every budget.
1. What Is a Teleprompter?
A teleprompter is a device that displays a pre-prepared script for a speaker. Also known as an autocue, it is probably most recognizable as the device used by newsreaders and politicians to deliver broadcasts and speeches. Traditionally, teleprompters have been unique pieces of hardware, but increasingly people are using computers, tablets and phones as an alternative to professional apparatus.
2. Why Is Teleprompter Software a Must-have for Professional Presentations?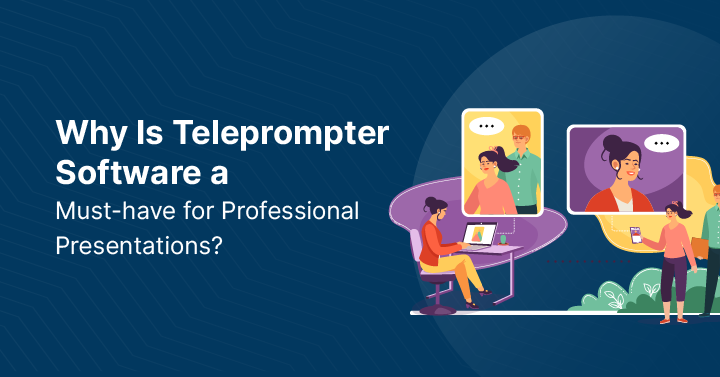 Improves performance quality
Teleprompter software takes the stress out of having to remember your lines or bullet points so that you can focus instead on giving the best possible performance during your presentation.
Utilizing teleprompter software means you don't have to memorize every script. This will save you a lot of time, especially if you are regularly on camera.
Even if you've thoroughly practised your presentation, professional teleprompter software gives you that extra level of confidence that you will be word-perfect.
Instead of having to look down to refer to notecards or pieces of paper, you can maintain strong eye contact with your audience. This makes for better engagement and more dynamic performance.
Most teleprompter software has a range of personalization options and settings that you can alter to best suit your performance, whether that means font size or width of text on a screen.
Teleprompter software is generally easy to use – you certainly don't have to be a tech whizz to set it up. Plus, they are generally pretty affordable, making them easily accessible for everyone.
3. 6 Best Teleprompter Software
3.1 Vodium – Best teleprompter software for giving video presentations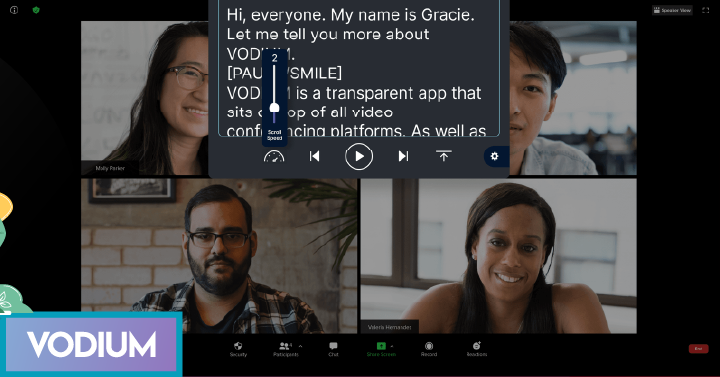 Founded by a female team of millennials, Vodium's teleprompter software displays your notes or script directly beneath your computer camera, allowing you to maintain eye contact with your remote audience throughout the presentation.
Through the simple settings panel, you can adjust the transparency of the teleprompter window, change the font size and set the speed of the automatic scrolling. If you prefer to manually control the speed of scrolling, you can do this using your mouse, touchpad or keyboard.
The software is compatible with both Mac and Windows operating systems.
Key features:
The teleprompter stays on top of your other windows at all times.
Scroll through your script or notes automatically or manually.
Transparent window so you can see your audience behind the teleprompter software.
Pricing:
$15 per month or $150 per year.
Pros:
Very easy-to-use interface.
Simply paste the text into the window and you're ready to go.
Cons:
Vodium lacks any advanced features.
There's limited configurability for more personalized usage.
3.2 MirrorScript – Best teleprompter software on the market that's available for free
MirrorScript gets its name from the fact that you can easily mirror the text horizontally if you are using a teleprompter monitor, though it's equally usable on a computer or tablet. The software can be downloaded as an app or run directly off the MirrorScript website.
Both the font size and color can be changed for easier readability, and you can also adjust the margin of the text to make it fit better within your screen. Select automatic scrolling and set the pace that you want the script to play at, or utilize voice-activated scrolling, which follows your voice as you read.
The software is compatible with Windows, Mac and Linux.
Key features:
Supports multilingual texts, including non-English characters.
Choose between automatic scrolling or voice-activated scrolling.
Font size and color are customizable.
Pricing:
Free.
Pros:
MirrorScript doesn't require you to download anything to function.
It's completely free without any limitations.
Cons:
It lacks some more advanced features.
Customer support is limited to an email address, which means no guaranteed response to queries.
3.3 PromptSmart – Best teleprompter software for voice-activated scrolling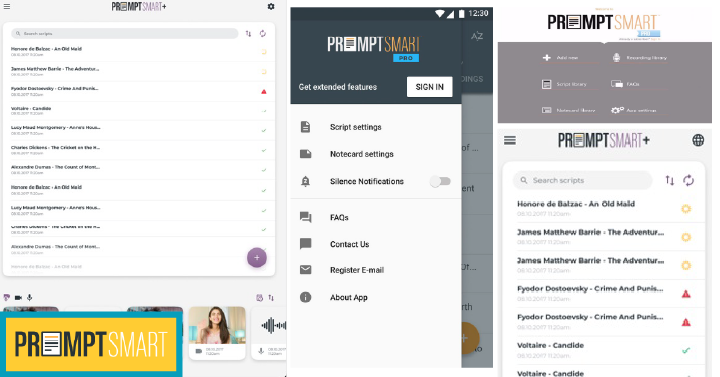 PromptSmart's patented VoiceTrack technology is one of its top features, automatically scrolling in time with your speech. There are a number of supported languages, including English, Espanol, Francais, German and Russian. Alternatively, you can set the scroll speed between 70 words per minute and 400 words per minute.
Customize your font according to 10 different typefaces, as well as multiple sizes and colours. While the software can work without connecting to the internet, you will need the internet to duplicate presentation screens, sync script edits and manage multiple sessions through the Remote Control mobile app.
Designed to work across mobile and desktop devices, the software is compatible with Windows and Mac operating systems.
Key features:
Patented VoiceTrack tech supports automatic scrolling in multiple languages.
Adjust font typeface, size and colour according to your preferences.
Content managed through the My PromptStart Customer portal is end-to-end encrypted.
Pricing:
$9.99 per month or $99.99 per year for the starter pack. Upgrade for multiple Remote Control Room sessions and a file management system.
Pros:
Provides greater customizability compared to other software.
You can work on scripts across multiple devices, which are synced via the cloud.
Cons:
PromptSmart only has email customer support available.
It can be complicated to use some of the more advanced features.
3.4 Teleprompter Pro – Best teleprompter software for a Microsoft environment
A product designed for Microsoft, Teleprompter Pro allows you to set the automatic scroll speed or turn on the speech recognition function so that the program follows your voice. You can select from four different color schemes for the font and background, as well as adjust the font size and margin according to your personal preferences.
Turn on the camera function and you can record your presentation through your built-in webcam or an external webcam – all within the app itself.
While Teleprompter Pro is one of the best-value teleprompter software for Windows, it does not have compatibility with Apple products.
Key features:
Record video directly through the app using your internal computer camera or an external camera.
Teleprompter Pro supports wireless controllers that you can use for greater power over your entire presentation.
A timing window indicates the elapsed time and remaining time of your script so you can stay on schedule.
Pricing:
$8.99.
Pros:
You can purchase the software with a one-off payment.
The user interface is intuitive and simple to use.
Cons:
There is a limited amount of customizability.
The software is not compatible with Apple devices.
3.5 Speakflow – Best teleprompter software for recording video presentations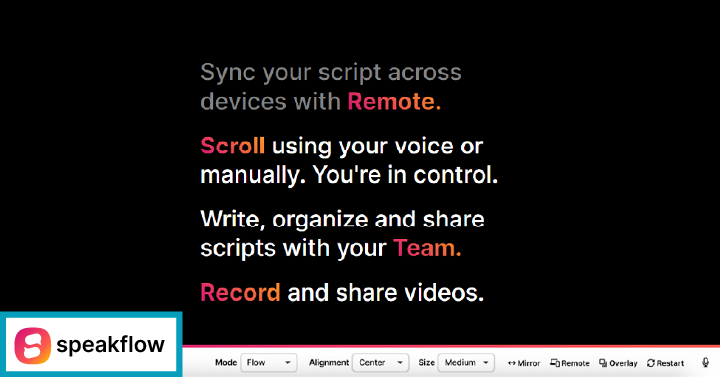 Speakflow is designed to work entirely out of your browser so that you don't have to download a thing. The software allows you to create and edit unlimited scripts, which are stored on the cloud. These can be synced and shared across multiple devices and users. You can also record high-definition videos of your presentation through the browser.
In addition to features like screen width adjustment, font size and text alignment, you can select from three scroll modes: flow (follows your voice), auto (preset scroll speed) and manual (scroll with mouse or touchpad).
The software is compatible with Windows and Mac operating systems.
Key features:
Create and edit unlimited scripts, which are stored online.
Record videos in up to 1080p, which can then be shared using a link.
Sync multiple devices, so that you can edit and play your script across them all.
Pricing:
$10 per month or $96 per year for the basic tier. The more advanced package is double the price but comes with an overlay feature, remote device synchronization and an AI writing assistant.
Pros:
There's no need to download anything to your devices.
High-quality video recording comes as part of the standard package.
Cons:
Features like video overlay and device synchronization are only available with the more expensive tier.
The typeface cannot be changed.
3.6 Virtual Teleprompter – Best teleprompter software for wide-ranging compatibility with video conferencing platforms
Built for online presentations, Virtual Teleprompter is compatible with common video conferencing platforms like Zoom, Microsoft Teams and Google Meet. You can adjust the transparency of the overlay where your script sits, as well as the font, color and size of the text.
Select between either manual scrolling or automatic scrolling, according to your preferred speed. Additional features include an integrated timer and word counter so you can keep track of your presentation length, as well as the ability to mirror text and alter the layout.
This teleprompter software for PC is compatible with Windows and Mac operating systems.
Key features:
The transparent overlay is compatible with all the most common video conferencing platforms.
Adjust the font and layout of your script with ease.
Multilingual support is available, including with right-to-left languages such as Arabic and Hebrew.
Pricing:
Free for the lite version (limited to 1,000 characters per script), $7.99 for the pro version.
Pros:
Everything is simple to use and intuitive.
Easy to stay on top of your presentation length with the integrated timer and word counter.
Cons:
The severe limitations of the lite tier mean it is definitely not the best free teleprompter for PC.
No voice-activated scrolling is enabled.
4. FAQs
Is there a teleprompter app for desktops?
Yes, lots of companies provide teleprompter apps for desktops, including all the software listed above.
Is Zoom teleprompter free?
Zoom doesn't have its own teleprompter software, but you can download the PitchHub Teleprompter app from Zoom's marketplace, which has been designed to integrate with the video conferencing platform.
What are the three types of teleprompters?
The three main types of teleprompters are camera-mounted teleprompters, floor and/or stand teleprompters and presidential teleprompters.
Do YouTubers use teleprompters?
Yes, some YouTubers use teleprompters to help them remember the key points they want to cover in their video. Others choose to go with a more spontaneous delivery.
What is the difference between a prompter and a teleprompter?
A prompter is a person who helps an actor when they've forgotten their line, particularly in the theatre. They have been around much longer than teleprompters, which are electrical devices that help speakers remember their scripts.