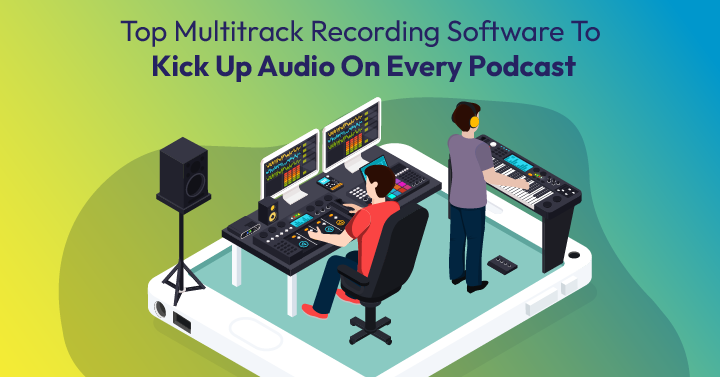 April 27, 2023

By

/

In

Editing and Production
Podcasters have been actively using multitrack recording software options for quite some time now. Mostly because it allows them to record different audio sources at once to later be merged into one for a more complex, layered sound quality that elevates listenabiity. Imagine what that could do for the depth and atmospheric quality of your podcast audio! But, with software, there will be endless options to choose from, so how do you know which multitrack recording software would work best for you?
That's exactly what we will be discussing in this guide, alongside a few of our favorite multi track recording app picks for you to try out. Let's get right to it then!
1. Why do podcasters need multitrack recording software?
Multi track recording apps have the capacity to record podcast audio from various sources and speakers to later combine them into a high-definition, final audio output. The great thing about using one of these is the ability of a multitrack recording software to allow for edits on a single channel. This means that if a speaker or source's audio is messed up, you can easily remove the unusable bits and go on to create flawless audio on your final version.
2. Selection criteria when choosing a multitrack recording software
2.1 Multiple tracks
Naturally, if you're looking for an open-source multitrack recording software or a paid one, you will always need to make sure that they offer varying channel recordings. Having different channels available for capturing your podcast audio means that you will be able to record each voice separately, alongside allocating a channel for atmospheric sounds. Combining them during editing will give you more fullness and depth of sound compared to other mixing suites.
2.2 Editing tools
The best multitrack recording software will give you an extensive editing toolkit to work with. The most common features would be the ability to remove noise, and distortions, rearranging, and remixing parts of your voice and filler audio. These suites also allow you to view your different sound layers at once to mix and merge them as you need to match your video footage. They also come with quick access icons to key editing tools to speed up your process.
2.3 Mixing capabilities
Moving to mixing with multitrack recording software, you'll see that most come with the basic rearranging, cutting, fading, and, layering, even remastering your audio cuts wherever needed. With live multitrack recording software, you will notice an array of better mixing tools, since there would be more editing, sound stabilization, and noise removal involved compared to a pre-cleaned audio upload.
2.4 Plug-ins
Especially with open source multitrack recording software, you'll see a variety of plugins you can integrate with your basic software. These could carry out additional functions including changing audio formats, modulation, import audio sections, and automation of your editing, arranging, and video-audio matching processes.
2.5 Noise reductions
No matter how you record your audio, there is no escaping noise and low-frequency signal distortions. A good multitrack recording software suite will most definitely include denoiser options – sound wave clarifiers, gain adjusters, hiss and surface noise reduction, codec management, and more. Such tools help you to cleanly remove minor distortions or any sudden noise inclusions throughout your podcast raw.
2.6 Friendly UI
Another feature must-have on your choice multitrack recording software is an interface layout that works for both beginners and professionals. Users prefer compact layouts with easy-accessible, graphical buttons within the editing frame itself. And when recording on mobile, your multi track recording app will need to be optimized for handheld use, including adjusted display sizes, compacted audio layer displays, and icon versions of essential editing tools.
3. 9 Best Multi-track Recording Software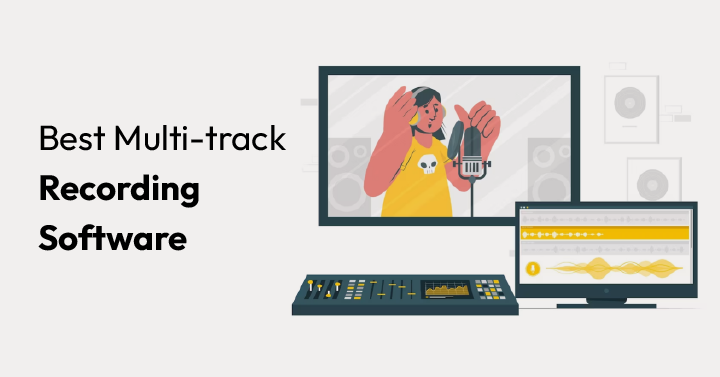 3.1 Audacity
Audacity is one of the pioneer open source multitrack recording software on the Internet. The audio management suite is compatible with Windows, MacOS, and Linux sound interfaces. Being an older iteration of multitrack input modulators, users can't specifically select a recording channel, although they do have several channels to record audio on. Playback of your final output will default to stereo and you may see a few limitations when mixing specific channel audio segments with one another.
However, this software does have a multitude of options where customization is concerned. There are loads of user-contributed shortcut keys, plugins, themes, and toolbars for you to choose from. But, there is a requirement for users of this recording option to have, at the very least, a semi-professional audio management setup. This includes specific sound cards, additional audio interfaces, as well as more advanced drivers that can help facilitate audio capture on more than two channels.
Key features :
Royalty-free content library
Customizable work dashboard
Audio segment drag & drop facility.
Pros
User-friendly UI for Mac, Windows & Linux
Sparsely populated mixing dashboards
Cons :
Manual integration of additional plugins and toolbars
Steep learning curve for new users.
Price : Free
3.2 Zoom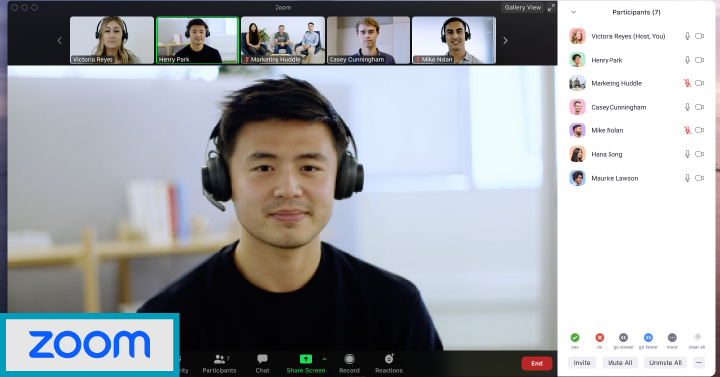 Zoom is a popular choice for video conferencing, but did you know it also supports multitrack recording? With this app, you'll be getting a multi track recording software free of charge, depending on how efficiently you're able to utilize this feature. From the "Settings" panel, you will be able to set the software to record each participant separately.
And you'll just have to get your team on the same Zoom call and record their audio bits via the various channels available. Keep in mind that a Zoom call can host up to 1000 participants at a time on paid plans, leaving you with more than enough channels to capture audio on. Naturally, the quality will fallback on your Internet signal strength.
Key features :
Up to 1000 channel recordings
Closed caption translations
Supports mobile recording.
Pros :
Usable on MacOS, Windows, Linux, and various Android and iOS builds
Less flexibility and control on each channel's audio capturing
Cons :
Slow Internet may impair audio quality
Lacks editing and mixing features.
Price : Free & Paid starting from $149.90
3.3 Ringr
Another multitrack recording software to look into is Ringr. Originally a web-conferencing software build, it does allow up to 5 different audio input sources to be recorded at any one time. In case of bad Internet, their call resuming feature automatically reconnects to your missing audio link – you just need to remove the interruptions during editing and it'll be good to go.
Aside from that, all Ringr users will enjoy unlimited calls and cloud storage space for all your track recording needs. Plus, it allows you to specify your final audio format – .mp3, .ogg, and . flac, alongside others. Users can even go ahead and decide audio type and bitrate of their recordings.
Key features :
Multiple audio file formats
Unlimited calls & storage space
Pros :
Runs on all iterations of Firefox and Chrome
Supports iOS and Android, track type selection, varied bitrates and file formats
Cons :
Lacks editing and mixing options.
Price : Starting from $7.99
3.4 Riverside.fm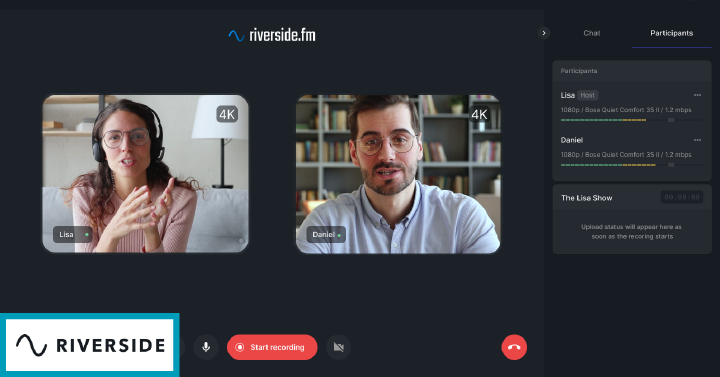 Riverside.fm is one of the more popular video podcaster picks when you're looking for a multitrack recording software for your audio. Not only does a single session host up to 8 participants for both audio and video, these will also be recorded separately in lossless quality, even when then Internet cuts. The suite also supports unlimited call instances on both its free and paid setups.
It also offers a unique way to edit your video and audio content – with text! And to further ease this process, Riverside also enables users to get an automated transcription of their video footage for even quicker editing windows. The editing dashboard is decked with quick access editing and branding tools, simplifying the editing progression, even for newbie users.
Key features :
Up to 8 channel audio inputs
Automated AI transcription
Support for 100 languages
Video clipper for social media
Live streaming on social networking platform
Remotely manage guest input/output devices
Pros :
Audio continues to save in HD even without active Internet
Uncompressed sound quality
Supports mobile recording,
Cons :
Free plan limits to single track recordings.
Price : Free & Paid starting from $15
3.5 Cleanfeed
Another great live multitrack recording software is Cleanfeed. This suite runs on Chrome with MacOS or Windows. On mobile setups, it is compatible with the Android operating system. With just a click, you'll have access to unlimited guests on a session – with no recording time limit – even on a free plan. Interestingly, for a conferencing software, Cleanfeed has quite the array of studio, mixing, and audio editing tools.
It also supports various file formats, higher bitrates on audio input, and even has a quick sound cleanup toolkit. It also boasts a good-sized filler content library. And based on user reviews, it seems that this suite has a much more stable connection gateway to the internet compared to other contenders in its area.
Key features :
Populated content library
Multi-channel audio mixing and editing
Network data capture and transfer
Pros :
Supports cross-platform casting,
Cons :
Limited mixing and editing tools
Price : Free & Paid starting from $17.00
3.6 Adobe Audition
The Audition suite is a great multi-track recording software for Windows 10 users. And being an Adobe product, you can expect a wide array of audio creation, mixing, and design features – denoiser tools, repair and restoring segments, diagnostic panels, audio mastering and mixing dashboards, free sound effects and more. These integrated features give you the complete set of implements you need to manipulate podcast audio for the best listenability.
What's additionally great about this is that it aggregates perfectly into the Premier Pro suite, where you would also be able to manage your video footage with help from AfterEffects and Photoshop. Their support team are also constantly adding new features to this software – the March 2023 update saw changes to playback speed control, session and clip markings, as well as Effects management updates. With these, you can be assured that Audition will remain the multitrack suite you need for every project.
Key features :
Audio mastering & mixing kits
Frequency-dependent audio display options
Free sound effects library
Dynamic volume control, and more.
Pros :
Great for professional and beginner sound management
Connects to almost any device
Multiple automation tools,
Cons :
Requires fairly professional hardware
Requires Windows 10 and above.
Price : Free & Paid starting from $20.99
3.7 Ardour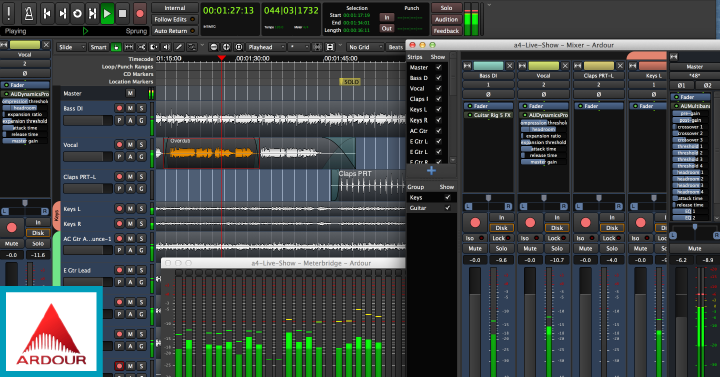 With Ardour as a choice multitrack recording software, you will be getting open-source access to not only audio capture across varying channels, but also a wide variety of integrations and plugins to use with them. You will also be getting unlimited multitrack channel recordings as well as more flexible capture for layered and non-layered audio pieces.
It's also a breeze to work with editing audio with their frame-by-frame video display to ensure context is preserved. You can even configure your system to reflect multiple devices during your editing process. The great thing with this suite is that its open-source nature allows the free download software to work with your hardware setup.
Key features :
Highly-customizable audio editing feature set
Multiple sample rate and format exporting
Plugins for all OS, audio editing and mixing automation
Varying sound panning options, section monitoring, and more.
Pros :
Runs on any OS and hardware setup
Limitless tracks, inserts, sends, and plugin combinations,
Cons :
Steep learning curve, selecting integrations may become tedious.
Price : Free
3.8 Reaper
Reaper.fm is another great multichannel recording unit for both newbies and the pros. Its cost-friendly toolkit has all the basic implements you'll need for audio editing, mixing, and trimming, aside from denoising and low-frequency elimination options. The editing layout on this one is very user-centric – there is a quick access toolbar right on the track panel, while progression timelines are displayed on top.
The combination of these help you not only edit audio segments quicker, but you'll also be able to precision-adjust volume, choice frequencies, and gain without having to squint through the audio time markers. Despite being an older software build, it doesn't overexert your RAM and graphics, ensuring lesser crashes during your process. And If you're new to REAPER, take it for a trial run for 60 days – no strings attached.
Key features :
Equalizing, and reverb effects library
Various plugins for better functionality and compatibility
MIDI-dedicated editing and mixing tools
Drag & drop audio tracks.
Pros :
Great for complex audio editing needs
Offers audio format specific toolkits
Plugins and integrations are frequently updated,
Cons :
Requires additional hardware for specific functions.
Price : Free & Paid starting from $60.00
3.9 Garageband
The final entry on this list of the best multitrack recording software for value, is Garageband. Originally a build created for Apple devices, you can run it on Windows or Linux with some help from 3rd party OS emulation software. Unlike a lot of the other ones on this list, Garageband makes it a point to honor simplicity and user experience in its interface design.
But that doesn't mean that it can't spit out precisely edited audio bits – cut, trim, mix, layer, and add filler sounds to your podcast audio. What's great with this is that you will even have access to virtual instruments which can help add to the authenticity factor, rather than simply using a synth dashboard. Newer users would benefit from the built-in music lessons through its Artist Lessons feature.
Key features :
Offers editing and remixing tools
Virtual instruments and percussion
Pros :
Powerful synth and bass controls
Various virtual instruments
Piano sheet notation display
Limited format support for MIDI projects
Uniquely designed for Apple devices,
Cons :
Relatively lower bitrate on final output.
Price : Free
4. FAQs
What do you need for multitrack recording?
With the most basic setup, all you'll need is a mic input device and a robust digital audio workshop offering multi-channel recording. Check that you have suitable sound cards and related hardware to run your software, aside from using a compatible operating system.
What software can record multiple audio tracks?
Most digital audio editing and mixing suites these days come with multi-track recording options built-in. Also, you can use video and conferencing tools in place of a pricey audio suite, if you're on a budget.
How do you record on 4-track recorders?
A 4-track recorder is an external mixing and recording unit with 4 separate channels for sound input. How it works is that a channel is activated and only used to record a single instrument or voice input. Once all 4 channels have been used up, you can go ahead and merge them – even edit and adjust waveforms – before transposing them onto your video footage.
Is Garageband a multitrack recorder?
Yes, it is! Users can record a maximum of 225 tracks for a single active project.
Can Audacity play multiple tracks at once?
Audacity is designed to automatically mix all input channels, either during playback or export.