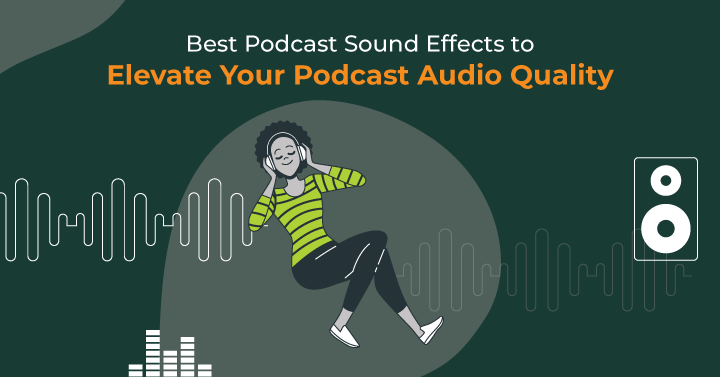 May 1, 2023

By

/

In

Editing and Production
Incorporating sound effects into your podcast can take your show to a whole new level. Whether you're using ambient noises, foley sounds or instrumental music, the best podcast sound effects (SFX) add more texture to your audio production, lending it a more polished, professional feel.
That's not to say all occasions call for sound effects, but if you use them tactically and thoughtfully, you can create more captivating experiences for your listeners, as we'll discuss in this post.
1. Why Should People Use Podcast Sound Effects?
Rather like the score of a film, the best podcast sound effects can guide the emotional responses of your listeners, priming them to feel tense, relaxed or even jubilant. In other words, they are a tool to help set the tone of your show.
Sound effects are also useful as a way to link sections of your podcast together. You may want to switch between topics over the course of an episode, and sound effects enable you to bridge the gap between different segments.
Finally, sound effects can make your podcast more immersive for listeners. Particularly for storytelling purposes, you may want to include audio that evokes a certain time or place.
2. When Should You Use Podcast Sound Effects?
Podcast sound effects should be used to keep your audience focused and attentive. For example, if there are sections of your episode where someone is talking for a long time on one subject, SFX can keep listeners engaged by ensuring there is variation in the texture of the audio.
Sound effects can also be employed whenever you want to add emphasis to something, as they can essentially function in the same way as bolding font highlights written text.
A lot of podcasters use sound effects as part of their intro and outro, creating a kind of identifier that acts as the theme tune for the show.
3. Best Podcast Sound Effects and Where to Find Them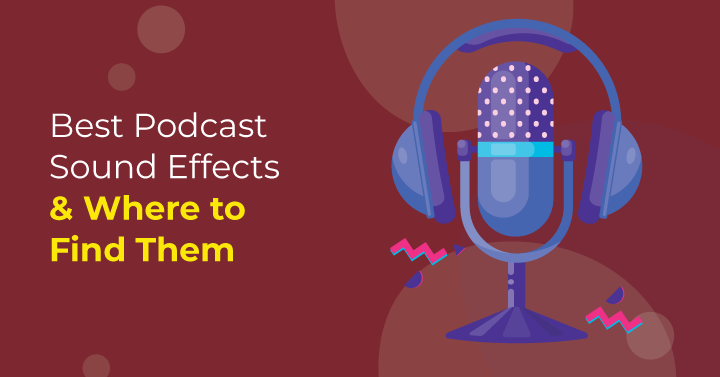 3.1 Ambient sounds
Ambient sounds are noises that you can hear in the background of a podcast. Often when we refer to ambient sounds, we are talking about things we would like to avoid capturing in a recording, like the sound of air conditioning or a dog barking.
Intentionally inserted ambient sound, however, can lend a sense of place and time, or even create a soothing mood. Some examples of ambient sounds are a babbling brook, bird song and a thunderstorm.
SoundSnap is a good place to find a huge range of ambient sounds. One of the most popular sound effects programs worldwide, it boasts more than 465,000 music and SFX tracks. The site offers both a pay-as-you-go model as well as a subscription service.
If you don't have the budget to pay for your ambient audio, Freesound boasts a large selection of sound effects that is available to users for free under Creative Commons licenses. Just make sure you check the usage agreement before downloading a track, as different files have different requirements regarding attribution.
3.2 Foley sounds
The sound of footsteps, keys jingling, glass shattering – all these are considered Foley effects. In essence, they are everyday noises that are (usually) created in an artificial setting. The most famous example is probably the use of coconuts to imitate a horse's hooves.
In podcasts, Foley sounds can be used to emphasize a particular moment, drawing the listener into the action. This is often very useful in scripted-fiction podcasts, such as Limetown, where you might want to create an instance of tension or suspense.
Freesound has its share of Foley podcast sound effects, including such diverse options as a robot walking, lighter sparking and footsteps in the snow.
An alternative free option is ZapSplat, which has more than 122,000 SFX and 500 royalty-free music tracks. As with Freesound, you have to properly credit the creators if you want to use the noises without paying a dime. For access to a greater archive of material and attribution-free usage, you can upgrade to the Gold tier for a few dollars a month.
3.3 Music Beds
In contrast to ambient and foley sounds, music beds are snippets of songs or instrumental passages. They are often used to add depth to a podcast, providing emotional resonance. Just imagine listening to a mournful piano versus listening to the sound of thunder – the former evokes a sentiment, while the latter provides situational context.
Music beds can also be utilized as a smooth way to segue from one section to another, signaling the transition to the listener without having to baldly state it. If you listen to a radio show, you will probably have heard a great deal of music beds being used in this way.
AudioJungle has more than 1.8 million royalty-free tracks on offer, which range from music genres like pop and hip-hop to country and rock. These can be purchased for a one-off fee, or you can sign up for the parent company's Envato Elements subscription for access to audio alongside stock photos and video templates. One of audiojungle's main competitors is PremiumBeat, which also offers a spectrum of musical styles, either through a single-track purchase fee or a subscription service that includes 5 licenses per month.
3.4 Stingers and Bumpers
Stingers and bumpers are used in intros, outros and transitions across visual and audio media. In podcasts, they serve two main functions: to build branding and to signal the beginning or end of a particular segment or the show as a whole. You can think of them as a dynamic way to indirectly tell listeners when you are changing topic or perhaps cutting to a commercial.
Broadly, stingers and bumpers have the same purpose, but they differ in length. Stingers are usually no longer than 5 seconds, while bumpers can be as long as 15 seconds.
AudioMicro has more than 300,000 royalty-free tracks, many of which can be used as stingers and bumpers. These tracks are segmented by musical genre as well as thematic genre. For example, you can select a track inspired by 80s crime dramas or something that is suited to a swords-and-sandals epic. These can be purchased singly or as part of a subscription.
Another option is Storyblocks, which has a search tag dedicated to stingers and bumpers for ease of use. Results can be segmented by mood, instruments and duration. There's no option for one-off purchases though, so you'll have to stump up for a subscription.
4. How to Incorporate Sound Effects into a Podcast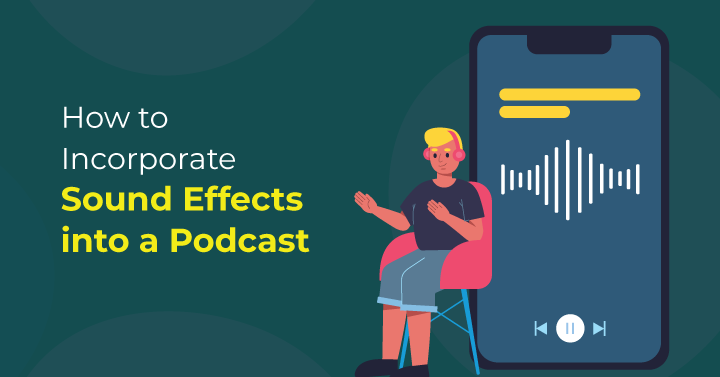 4.1 Plan in advance
If possible, you should try and include sound effects in your script. That way, you can prepare the ones that you want to use ahead of time and have them at your fingertips during recording.
4.2 Use sound effects sparingly
As we've discussed above, even the best podcast sound effects can start to annoy listeners or make your show sound lightweight if used in excess. For all the similarities between podcasts and radio shows, podcast audiences are more conservative when it comes to what comes at them through their headphones.
4.3 Choose the right sound effects
This might sound fairly obvious, but you should make sure you take the time to find the best possible sound effects for your show. This is particularly true when it comes to intros and outros, since they are likely to be reused throughout your episodes.
4.4 Mix the sound effects with the main audio podcast sound effects soundboard
A soundboard will help you add in sound effects as you record. Using a soundboard, you can configure presets and hotkeys in order to make the whole process easier for you to manage.
4.5 Use sound effects for transitions
You can smooth transitions between topics or segments in your podcast using sound effects. These musical interludes should usually be fairly short and thematically in tune with your podcast content.
4.6 Be consistent
Following on from the last point, consistency in your usage of sound effects is key to keeping your podcast audience on board. This is especially true when it comes to recurring jingles, which should help build your podcast brand in the minds of your listeners.
5. Websites with Free Podcast Sound Effects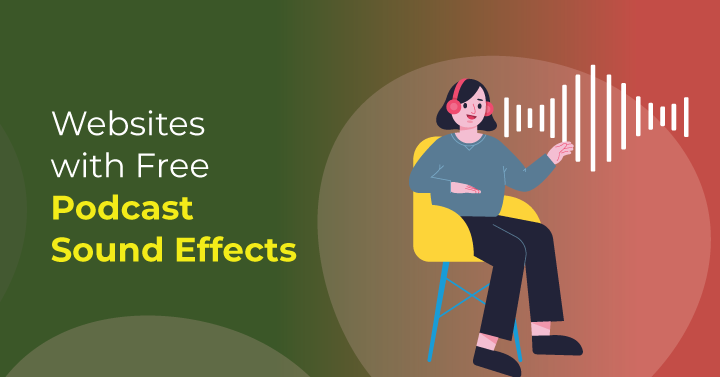 5.1 The Freesound Project
One of the best podcast sound effects websites if you're looking for free sound effects and music clips, Freesound has more than half a million audio tracks that can be used under Creative Commons licenses. That's a huge amount of choice, even if you have to access the sounds through a very old-fashioned-looking user interface. As well as the search function, podcasters can browse sounds by tags.
5.2 SoundBible
From UFOs to dogs barking, SoundBible has arguably the best podcast free sound effects library, numbering thousands of common (and uncommon) noises. These are available under Creative Commons and Public Domain licenses. The site isn't great for music beds, stingers or bumpers, but it does have a nice variety of foley and ambient options.
5.3 Zapsplat
You can segment ZapSplat's 122,000+ sound effects by a variety of tags, including foley, nature and public places. There is also a smaller section of 500 royalty-free music you can use, largely in the pop, electronica and classical categories. If you want access to more material and attribution-free usage, you can upgrade to the Gold tier for £4 (about $5) per month or £30 (about $37) per year.
5.4 YouTube Audio Library
If you are creating a video podcast, YouTube has an audio library of free music and sound effects that can be downloaded and incorporated into your episodes. The options aren't particularly extensive (under 1,000 each for music and SFX), but the quality of each track is pretty high and guaranteed copyright-safe by YouTube.
6. Websites from which You Can Buy Podcast Sound Effects
6.1 Music Radio Creative
Music Radio Creative has hundreds of royalty-free music tracks, sound effects packages and sound drops for podcast creators. Each item is charged individually rather than via subscription fee. What makes Music Radio Creative unique is that it will make custom jingles and voice overs according to your scripts and requirements using its stable of artists.
6.2 Storyblocks
You can find some of the best podcast sound effects on Storyblocks, which has a library of more than 10,000 pre-recorded SFX available, alongside royalty-free music that you can browse by mood, genre or instrument. If you're looking for podcast transition sound effects, you can also search for stingers and bumpers using the nifty tagging system. In contrast to Music Radio Creative, Storyblocks only charges via subscription, starting from $15 per month for a basic package of 3 downloads per month.
6.3 A Sound Effect
As its name suggests, A Sound Effect principally offers SFX rather than music clips. An independent community where sound artists can sell their creations, most options are bundles of similar noises rather than individual tracks. These include foley and ambient noises that range from creaking doors to running water.
7. Examples of Podcasts with Best Sound Effects
7.1 The Truth
The Truth is an anthology podcast that features a self-contained short story each episode. The show is particularly good at using ambient sound to fill in the background scene, whether the action is taking place in a car or in a bar. This allows the voice actors to focus on the dialogue and interactions without worrying about having to explain the setting.
7.2 Welcome to Night Vale
Welcome to Night Vale is regularly cited as having some of the best podcast sound effects. Presented as a series of community updates from a radio station in the fictional desert town of Night Vale, it boasts an intro jingle that brilliantly walks the line between creepy and darkly comical. During the course of the episodes, there is an almost continuous music bed over which the narrator speaks, paired with other musical interludes that break up the sections of the show.
7.3 99% Invisible
Like Welcome to Night Vale, 99% Invisible features an almost continuous backing track of instrumental pieces. Describing itself as a "sound-rich podcast," the show is ostensibly about the overlooked power of design and architecture, though it really covers all manner of unusual, underexplored topics – all accompanied by hearty spoonfuls of music.
8. FAQs
What sound is best for podcasts?
The best sound for podcasts depends on what effect you want to achieve. Ambient sounds can be helpful in setting the scene, while foley sounds can give emphasis to particular moments.
Where can I get podcast sound effects?
There are many places you can download SFX, from a podcast sound effects app like Podcast Soundboard to sound effects websites like Zapsplat.
What is the most famous sound effect?
The Wilhelm Scream is often cited as the most famous sound effect in the world. It is currently in the public domain, so feel free to use it in your podcast!
How do I get free podcast sound effects?
There are a number of sites offering free podcast sound effects, including Freesound and SoundBible.
When Should Podcasters Not Use Sound Effects?
Too much of a good thing is never ideal. If you overuse sound effects to convey ambiance and mood, you risk making your podcast seem cartoonish and lightweight. You can even begin to annoy your audience, as evidenced by several podcast sound effects Reddit threads. Sound effects employed at the wrong time can also undermine a serious point by distracting listeners from the topic under discussion.