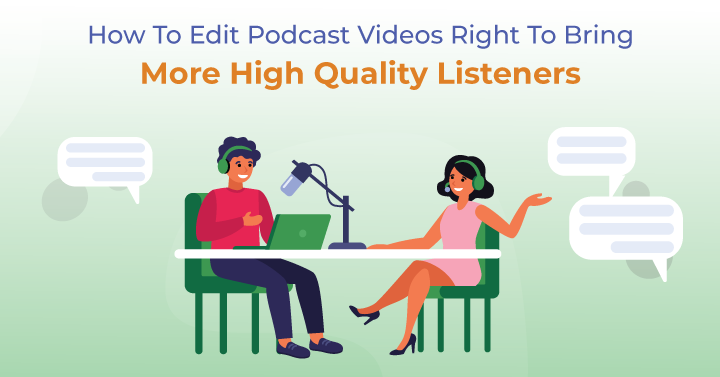 April 21, 2023

By

/

In

Editing and Production
When you're hosting a video podcast, rather than a simple audio one, how to edit your podcast video becomes key question in your process. Not only does editing your videos increase contextual coherence, it also makes your content piece more listenable and attention-retaining. Short and straight-to-the-point video podcasts often score some of the highest engagement rates, including social shares.
But to achieve these desired results, one will first have to have know-how on how best to do podcast editing online for their content. And that is exactly the page we're on today – how to edit podcast videos as well as top tips for podcast editing online and offline. Let's jump right into it!
1. Why Is A Video Podcast Important?
1.1 Enhance viewer engagement
Your audience would most probably seek out a podcast video that gets right to answering the questions they have – either with their search intent or when thought is provoked by simply watching your video. This is where editing comes in. Reorganizing your frames and video sections, adding transitions, mixing sounds, and adding eye-catching graphics or effects would all contribute to the likelihood of your audience segments staying to the end of your podcast – and sharing it!
1.2 Increase visibility of your podcast
The next thing that a video podcast can help with is increasing the overall visibility of your channel. A modern audience is generally inclined to spend more time on video content rather than audio content. Besides that, having a video podcast allows you to add further thumbnail images, metadata, and SEO-linkable keywords to help boost your traffic on both major search engines and internal search structures on your hosting platform.
1.3 Provides multi-platform accessibility
Most hosting and social platforms these days are highly video-ready. But, the same can't be said for purely audio content. Having a video podcast allows you to further your reach across various networking and video depository websites. Plus, a lot of these platforms are livestream-friendly as well, so you'll have even more flexibility with your video content types – either pre-recorded or live-streamed.
1.4 Makes content interactive
The unique quality of video podcasting is that it enables the podcast session to be even more interactive. Not only will viewers be able to interact and relate with the happenings within the video, but video podcast software and hosting platforms also actively integrate chat features and 1:1 streaming rooms to further facilitate communication and engagement between the podder and their wide demographic of audience segments.
2. What Are The Pre-editing Steps A Podcaster Should Keep In Mind?
2.1 Transcribe the podcast episode
Before you open the chapter of how to edit podcast videos, be sure to have your episode transcribed. Having a textual version of it lets you see the content in its entirety – complete with timestamps and necessary keywords. With this, you can mark areas to be cut and joined, re-arrange segments of your video, as well as decide simply which portions of your recording to keep in and which low-value bits to discard.
2.2 Prepare the footage and audio files
Editing your video recordings can only be done after the cleanup of the raw has been completed. Check your video footage for breaks, distortions, or unfocused bits, and slate them for removal. With your audio file, things are pretty much the same – remove distorted portions, missing voices, interfering signals, and background noises, as well as any discrepancy in pitch and tone, overall.
2.3 Select the editing software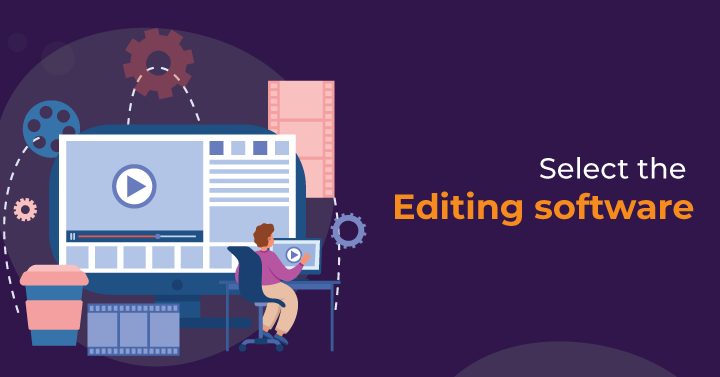 When picking out a medium for editing, especially a free video podcast editing software, you will need to consider a few things for an efficient process – editing toolkit range, video encoding, and hardware acceleration, extensive video input and output format support, royalty-free media libraries, and the ease-of-use, coupled with the simplicity of the interface. Select one based on the technicality and intricacy of editing for your videos – more professional video content may need additional editing and scrutiny.
3. How To Edit Podcast Videos?<
3.1 Import footage
The first step when using podcast editing services online would be to import your footage onto the editing platform. When importing, be sure to use the best quality you have – both for video and audio. A lot of the best podcast editing software tend to support specific audio and video formats, like .mp3, .wma, .m4a, .mp4, .wmv, and a handful of others. Identify that you have your footage in any of the corresponding formats so that your importing is successful.
3.2 Sync audio and video
The next step in this guide on how to edit podcast videos would be to match your audio and video clips to one another. Naturally, editors will need to edit the sound clip to reflect what's being shown on the video display. The easiest way to do this is by noting waveforms on your original video footage to match them with your cut and rearranged sections of audio. Better yet, automate it with software like Filmora, Premiere Pro, or FlexClip.
3.3 Edit audio and video
Once the syncing is done, go ahead and edit both the audio and video sections as one. Most podcast editing services allow you to simultaneously select sections of your video and audio to move around at any given time. This way, you'll be able to further rearrange your podcast episode for increased context, more interesting progression, better listenability, and conciseness. Don't forget to color-correct and manage your light and gradient on your video footage.
3.4 Add B-Roll footage
So, how to edit podcast videos for when you find areas that seem to have a disconnect or discontinuity in your episode progression? Just fall back to your B-roll to see if there are bits that you can use to bridge the gap. Adding transitions, storytelling elements, stock media, detailed shots and close-ups for emphasis, even footage of places and backgrounds to help set the stage between your topics.
3.5 Create an eye-catching thumbnail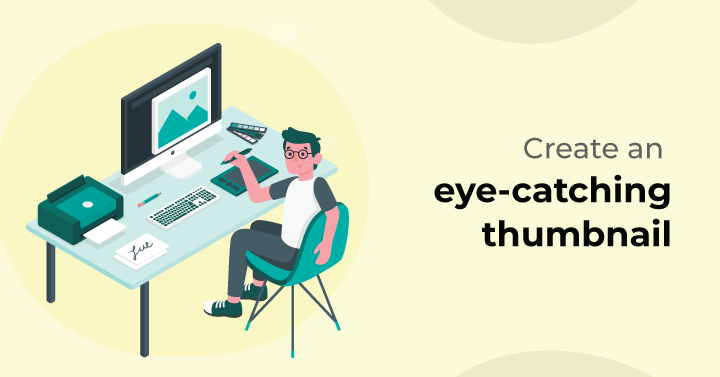 A thumbnail is the first gateway into your video – essentially a make a break where audience interest and attention are concerned. Create fascinating thumbnails by utilizing bold color schemes, negative space, effective and consistent branding elements. Add to it metadata and alt descriptions for better search performance. It's also recommended by Google to use either JPG, GIF, or PNG formats with a resolution of 1280×720 and a 16:9 aspect ratio. However, the specifics may vary depending on the design of your hosting platform.
3.6 Export the final video
Once you have all your elements in place, it's time to hit the "Export" button and publish onto all your hosting sites. But before that, you'll have to pick out a suitable format for your output, select audio, video codecs to preserve final footage quality, and a bitrate that can hold in all that quality, without too large a file size. Here is also where you decide if your video needs more than one pass during encoding to ensure no distorted pixels are left.
3.7 Review the final product
As soon as your video podcast software spits out a final, you can go on to check it for any disbursed pixel clusters, sections with faulty audio-video sync, incorrect file formats, improper encoding, and a few other checks. If you have closed captions with your video, it would be best to also check the timing and accuracy of these to ensure the best experience for every audience member your channel receives.
4. Tips On How to Edit Podcast Videos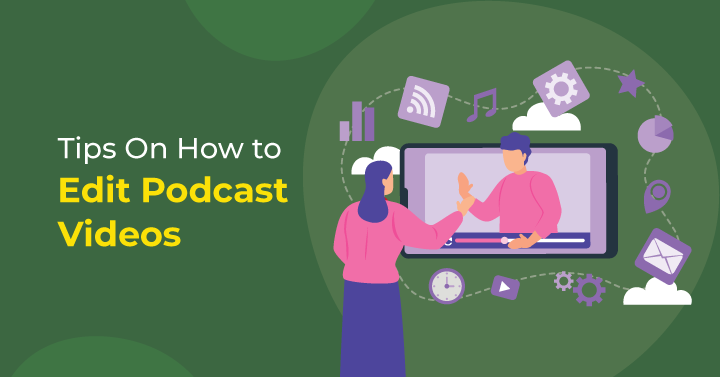 4.1 Use keyboard shortcuts
How to edit podcast videos speedily? Make it a point to fully utilize keyboard shortcuts, or hotkeys, to step up your pace. Some of the common shortcut commands you'd find useful include Ctrl + C and Ctrl + V for easy copying and pasting of video and audio sections, PgDn and PgUp keys help you get to the start and end of your footage easily, Ctrl + S to instantly save a copy of your current project and Ctrl + I for access to the export command prompt.
4.2 Cut unnecessary content
When you ask of how to edit podcast videos for better watchability, the simplest solution is to give your footage a final look over and trim any unnecessary video sections, potentially offensive content, or simply filler segments with no real value to your audience pool. A lengthy guest speaker introduction or unrelated banter can also be removed for further clarity of your podcast episode.
4.3 Edit for pacing
Pacing is the ability of the editor to convey or invoke select feelings by suitably adjusting the length and speed of a video footage to create an engaging rhythm and flow of storytelling. Editing to capture the complete range of emotions and passion throughout your podcast episode rather than simply focusing on dialogue could be a great key to keeping your audience reeled in as they further connect with relative topic points and emitted emotions from the host and guest speakers.
4.4 Use music and sound effects
This is one of the most underrated engagement tools in video. Most people are inherently attracted to a good composition or a memorable jingle. But these can also be used as mediums to convey information, emotion, and set the stage for further topics of discussion. Sound effects are a gift for emphasis and of course, a few laughs and fun to be sprinkled along your podcast episode.
4.5 Keep it simple
Sticking to the basics could benefit your engagement – most audiences don't care for frills in their video podcast. Be sure to only include relevant footage, audio, animation, and transitions in your final output. Any extra bits may be overkill, leading to your viewers dropping off even before they can reach somewhere around the end of your episode. This also applies to thumbnail design, video footage corrections, and usage of B-roll and royalty-free media.
5. FAQs
What do podcasters use to edit videos?
Podcasters will need a variety of tools to edit both their audio and video bits, depending on their vision of how to edit podcast videos. In some cases, they may even need unique file formats or codec packs for the best quality on their hosting site. However, one popular editing tool is the Adobe Premiere Pro toolkit. See how to edit a podcast in Premiere Pro for better understanding of how to professionally edit your video content.
How do I make and edit a podcast video?
The making part is easy – simply shoot anything and everything you think you'll need for your podcast episode. Once you have that, edit to sync the two, then go on to trim, segment, rearrange, and add a sprinkle of some sound effects, animations, and transitions for added emotional value.
How can I edit podcast videos for free?
The answer to "how to edit podcast videos for free" is always the same – online. There are several robust free video podcast editing software suites and platforms out there so you can easily upload your video and audio content for precise editing.
How much does it cost to edit a podcast video?
Free video podcast editing software are aplenty out there. However, if you're looking to have a reliable video and audio editing toolkit for the long run, it would be best to invest in a subscription with video editing services like Adobe Premiere Pro, DaVinci Resolve Studio 18, or VideoStudio Ultimate.