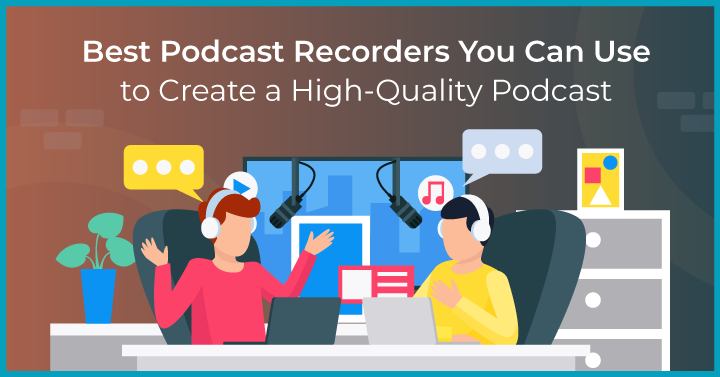 March 31, 2023

By

/

In

Best in Podcasting
To create a high-quality podcast, you need to use the best recording software available. Whether you're just starting with podcasting or doing it for a while, using the best podcast recorders can help you create a high-quality show. There are a lot of different options out there.
In this blog post, we've compiled a list of the best podcast software for podcasters based on our experience and what other professional creators recommend. Let's get started!
1. Why Do You Need Good-Quality Podcast Recording Software?
Podcasts are influential, entertaining, and informative sources for millions of people around the world. So whether you're creating educational content, delivering inspiring stories, or simply connecting with friends over a favorite topic, you must have access to good-quality podcast recording software. The best podcast recorders provide users with effortless recording services, allowing more time and energy to be spent on developing engaging audio stories.
Podcast recorders apps also come in handy when users need to quickly capture inspiration from wherever they might be. What's even better is that free podcast recording apps are also being offered. So even if your podcast budget is tight, you can still get professional audio for recordings.
2. Top 15 Best Podcast Recorders
2.1. Audacity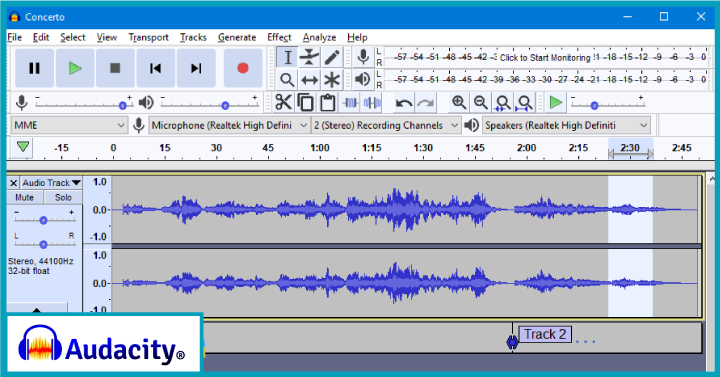 Audacity is a popular free podcast recording app used by beginners and professionals alike. It is an open-source audio recorder and editor that allows users to easily change their track's speed, pitch, and quality. The spectrogram is one of the most important features of Audacity. It can be used to analyze the sound and identify different sounds. This is useful for identifying the source of a sound, determining the frequency range of a sound, and identifying noise.
Moreover, the tutorial library helps new users gain confidence in producing podcasts without going through a rigorous learning process. Overall, it is an easy-to-use audio recording platform for anyone looking for an inexpensive way to create high-quality podcasts.
Price: Free
Compatibility: Windows, macOS, GNU/Linux
Pros: Wide range of controls for editing
Cons: The dashboard is a bit complicated
Best For: Experienced podcasters
2.2. Alitu
Alitu is a fantastic podcast software free tool that enables budding podcasters to create great content with ease. With an intuitive design and powerful features, it's an excellent way for newcomers to get up and running quickly. Create the perfect audio quality, trim unnecessary bits of your recordings, add music and sound effects, and record interviews easily – you can do all this and more with Alitu.
Its automated audio cleanup feature ensures the unwanted noise is taken care of. It can analyze audio files and create customized soundtracks. This can help improve the quality of audio recordings and make them more accurate. Additionally, it can help to reduce the time needed to create audio content. You can publish and distribute your podcast easily on Google, Spotify, and Apple.
Price: $28 per month
Compatibility: Windows
Pros: Free music library with multiple themes
Cons: It has only one transition effect
Best For: Beginners
2.3. Apple Logic Pro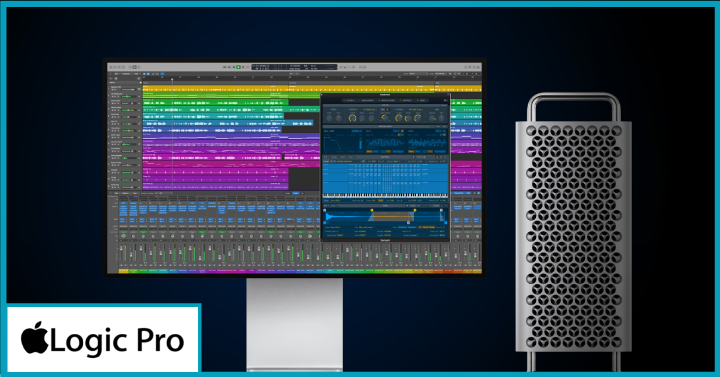 Apple Logic Pro is an intuitive and powerful podcast recording software that allows users to create professional-quality projects without ever leaving their desks. It features an easy-to-use remote control setting that gives users real-time access to their project, including sound effects and automated mixing.
With Logic Pro, you can export your audio track to a Dolby Atmos file that is compatible with Apple music. This recording software brings the power of a full studio setup into your home—making it perfect for any content creator looking to up their audio production game.
Price: $199.99
Compatibility: Mac, iPad, and iPhone
Pros: User-friendly interface, huge sound library, and built-in plugins
Cons: You need some knowledge of DAWs to use
Best For: Experienced and intermediate
2.4. Anchor
Anchor is a free podcast recording app that allows users to record and publish audio shows easily. Anchor's advanced analytics offers accurate and reliable data to measure your audience and help your show grow. The engagement insights help you understand your listener's preferences, based on which you can plan the content.. Plus, their monetization options make it possible to start earning money right away.
With Anchor, aspiring podcasters can find their voice and bring their creative ideas to life through the power of sound. So get started today – you never know what impact your podcast could have on the world!
Price: Free
Compatibility: Windows, iOS, and Android
Pros: Unlimited hosting, easy to monetize, and solid analytics
Cons: Limited in-app editing, limited upload
Best For: Beginners and experienced
2.5. Adobe Audition
Adobe Audition is a powerful podcast recorder online that allows users to record, edit and mix audio content. It is an ideal tool for podcasters, musicians, sound designers, and other audio professionals looking to create high-quality audio recordings.
With Adobe Audition, users can easily record multiple audio tracks and mix them to create a professional-sounding podcast. Adobe Audition also offers advanced editing and sound mixing options that allow you to apply desired effects to the audio, such as multi-track, waveform, and restoring audio content. All these features make it the perfect tool for creating podcasts that sound great.
Price: $20.99/mon
Compatibility: macOS and Windows
Pros: Good at eliminating distortions
Cons: Interface is difficult for beginners
Best For: Experienced
2.6. BounceCast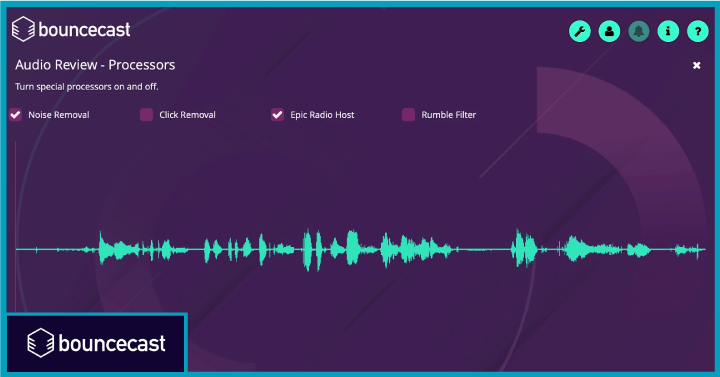 BounceCast is an online podcast recorder that allows users to record, edit, and publish podcasts easily. In addition, it offers a wide range of features to make the podcasting process easier and more efficient.
With BounceCast, users can record multiple episodes in one session, add background music and sound effects, apply audio filters to enhance sound quality, create multiple tracks for each episode, and share their podcasts with friends or on social media. Additionally, BounceCast also provides real-time analysis of audio based on fluctuations in loudness and produces automatically corrected audio files.
Price: It is available for free. The paid version starts at $9 per month
Compatibility: iOS and Android
Pros: It supports multiple formats, including – WAV, MP3, AIFF, FLAC, and Ogg-Vorbis
Cons: Echo cancellation and web-based functionality
Best For: Experienced
2.7. Ecamm Call Recorder for Skype
Ecamm Call Recorder for Skype is an online podcast recorder that allows users to record and store their Skype calls easily. You can record your podcasts and split them the way you want. The recorder is an easy way for mac users to record video and audio directly from Skype.
It also provides various editing options to help users customize their recordings and make them sound professional. Additionally, Ecamm Call Recorder for Skype allows users to share the recordings with others via email or social media platforms. This tool makes it easy for podcast creators to record conversations without hassle.
Price: $39.95
Compatibility: Mac
Pros: Automatically record and save call audio
Cons: Does not offer multistream
Best For: Experiences/Novice/Intermediate podcasters.
2.8. Podbean
Podbean is one of the best podcast recorders online. It offers a comprehensive suite of tools to help podcasters record, edit, and publish their podcasts. With Podbean, users can access various features such as podcast hosting, analytics, and monetization. The royalty-free music library offers instant preview, purchase, and download of high-quality audio tracks.
It also offers an easy-to-use interface that allows users to record their podcasts quickly and efficiently. Additionally, it provides an easy-to-use publishing platform enabling you to quickly upload your podcasts and share them online. Podbean is an excellent choice for those looking for a reliable podcast recorder online.
Price: It has a free plan. The paid plan starts at $14 per month
Compatibility: Android and iOS
Pros: Built-in editing tools to trim, replay recordings, merge and split audio
Cons: You will not be able to do video podcasting
Best For: Experienced
2.9. PodCastle
PodCastle is an online podcast recorder that allows users to record, edit, and share their podcasts easily. It provides a user-friendly interface that simplifies the recording process and makes it easy to create high-quality podcasts. With PodCastle, users can record multiple tracks simultaneously and add sound effects, music, or voiceovers to their recordings.
Furthermore, it allows users to share their podcasts on popular platforms like YouTube, SoundCloud, and iTunes. PodCastle is an excellent tool for podcasters of all levels who want to create professional-sounding podcasts with minimal effort.
Price: It offers a free plan. The paid plan starts at $11.99
Compatibility: iOS
Pros: Quick loading times
Cons: Lack of video podcasting feature
Best For: Intermediate podcasters
2.10. Ringr
Ringr is quickly becoming one of the most sought-after podcast recording solutions on the market. It allows you to create podcast audio recordings remotely like you are in a studio and share them with anyone, anywhere, from any mobile device. Best of all, the software has been lauded for its consistent performance, with many industry professionals viewing Ringr as one of the best podcast recorders currently available.
Its ability to easily record interviews over long distances using mobile and desktop devices makes it incredibly accessible. At the same time, its commitment to reliable sound quality ensures listeners can enjoy each audio production with crystal clarity. With this in mind, it's no wonder that so many podcasters are seeing their shows reach new levels of success through Ringr – it's truly one of today's best podcast recorders.
Price: $7.99 per month
Compatibility: iOS, Windows
Pros: ease of use and simplicity
Cons: It offers nothing in terms of editing
Best For: Experienced
2.11. GarageBand
GarageBand is one of the best podcast recorders on the market. It comprises advanced features that allow you to unleash your musical creativity by recording your voice or musical instruments. Additionally, it includes a large collection of Apple Loops that helps you record at different speeds or musical keys.
The intuitive interface ensures that, regardless of user experience level, recordings can be created quickly and easily. Best of all, GarageBand is available for both PC and Mac platforms, making it an excellent choice for anyone looking to produce professional quality podcasts without spending too much time or money.
Price: $14.99
Compatibility: Windows, Mac, and iOS
Pros: Equalizes multiple audio tracks
Cons: Large project files that can fill up the storage
Best For: Experienced
2.12. Reaper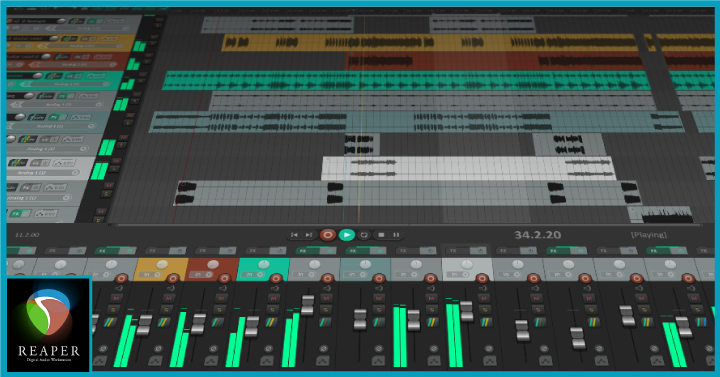 Reaper has become one of the best podcast recorders in recent years, with several features like – audio editing, mixing, manipulation, recording, and development. One of the key features of Reaper is its ability to integrate with 3rd party apps and support for VST plugins. It also comes with a built-in virtual instrument, ReaSynth, to help you create a wide range of sounds.
Best of all, Reaper is compatible with Windows, macOS, and Linux operating systems, allowing it to be used on any computer setup. With its lightweight size and intuitive user interface, Reaper is quickly becoming an essential tool for many podcasters looking to get the best audio recordings possible.
Price: The commercial license is available for $225
Compatibility: Windows, Mac, Linux
Pros: Ease of setup and use
Cons: Small and hard-to-read fonts
Best For: Experiences/Novice/Intermediate podcasters
2.13. Zencastr
Zencastr aims to revolutionize the way content creators make and record podcasts. Built for both live and remote recording, Zencastr captures crystal-clear sound quality with minimal audio glitches while maintaining a reliable connection, making it one of the best podcast recorders available. With built-in VoIP, you don't have to use third-party apps like Skype or Teams to chat with other participants.
Best yet, this intuitive platform provides access to professionally engineered sound effects to add an extra layer of production value to any project. The automated post-production feature makes it easier to upload and stitch the tracks into one. Whether you're just starting or a seasoned professional, Zencastr has all the tools to bring your podcasting dreams to life.
Price: It is available for free. The paid plans start at $20
Compatibility: Windows and Mac
Pros: Multi-track recording and clear workflow
Cons: lack of video podcasting
Best For: Beginners
2.14. Hindenburg Journalist Pro
Hindenburg Journalist Pro is the best podcast recorder app for you if you want to record, edit, and publish your podcasts. This podcast recorder allows you to record, edit, and publish your audio recordings online. The intuitive user interface allows you to organize your recordings and speed up your post-production activities.
In addition to recording sound from any source, this app also includes tools for editing and publishing your podcasts in just a few clicks. The interface is simple and intuitive, so even beginners can start recording with this tool immediately!
Price: It is available for a one-time fee of $375
Compatibility: Windows, Mac, iOS
Pros: Ease of use, multi-track recording, noise reduction, loudness normalization
Cons: Inconsistent voice sounds
Best For: Experienced
2.15. IK Multimedia Irig Recorder 3
IK Multimedia Irig Recorder 3 is the perfect podcast recorder for anyone looking to record and share their favorite podcast episodes. This app features a powerful microphone, an easy-to-use interface, and intuitive controls that make it easy to record, edit your audio, and share your recordings with friends.
With the IK Multimedia Irig Recorder 3 app, you can easily record audio from your phone or computer. You can even record from a video camera or other device via USB. The app has more than 30 different effects that help you get professional results quickly. You can also use the software's built-in editor to trim your recordings so that they're perfect for sharing on social media or uploading to a website like SoundCloud or YouTube.
Price: $69.99/month
Compatibility: iOS and Android
Pros: built-in mic and speakerphone function
Cons: Doesn't have a container or storage bag
Best For: Beginners.
3. FAQs
What is the best podcast recorder?
Some of the best podcast recorders are – Adobe Audition, GarageBand, Logic Pro, Audacity, and Podbean.
What is the best way to record audio for a podcast?
There are different ways to record audio for podcasts. The best way to record audio for a podcast is via using a portable recording device along with editing software.
What is the best app to record a podcast?
The best app to record a podcast includes – Spreaker, Podbean, BounceCast, and Hindenburg Journalist Pro.