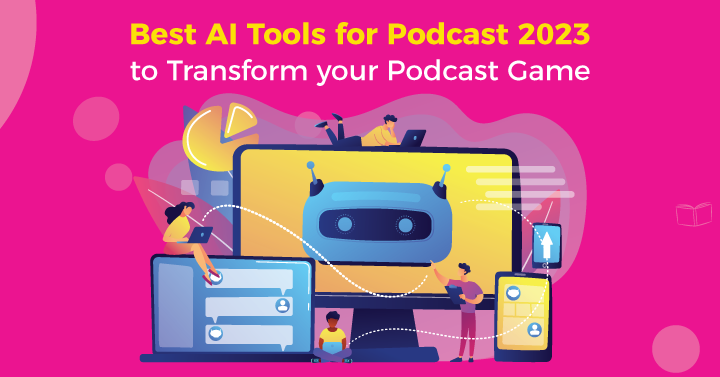 April 6, 2023

By

/

In

Editing and Production
As the popularity of podcasts continues to grow, so too does the demand for high-quality audio editing tools. Fortunately, there are now a range of AI-powered tools available that can help streamline the podcast editing process, making it faster, easier, and more efficient than ever before. The best AI tools for podcast editing take a lot of the hard work out of creating a podcast. Perhaps the best way to think of them is as an eager assistant to your creative process, handling a lot of the boring, repetitive manual tasks that you would really rather not have to deal with yourself.
Some of the programs on this list are specifically designed for podcast creators. Others are more general-purpose tools that have great applicability to audio content. In this article, we'll explore some of the best AI tools for podcast editing, and how they can be used to take your podcast production to the next level.
1. Why Should You Choose AI Tools to Edit Podcasts?
If you're a podcaster with a great idea for a show but not the engineering know-how to soup up your audio, the best AI tools for podcast editing offer a welcome helping hand. They can significantly diminish the time and energy you devote to correcting the sound quality, automating all the fiddly parts for you so that it's that much easier to create a high-quality finished product that is easy on the ears.
AI tools can also make it simpler to create additional accompanying content for your podcast, such as transcripts of speech or audio sound bites, which can then be edited for sharing on social media to drum up interest for the episode. 
2. How Do I Use AI for Podcasts?
AI can be used to automatically edit sound, turn speech into text and even create optimized podcast pages for your show. Some companies also offer script outline generation, so podcasters can cover the topics they want without devoting as much time to brainstorming how to structure their episodes.
3. 10 Best AI Tools for Podcast Creators
3.1 Otter.ai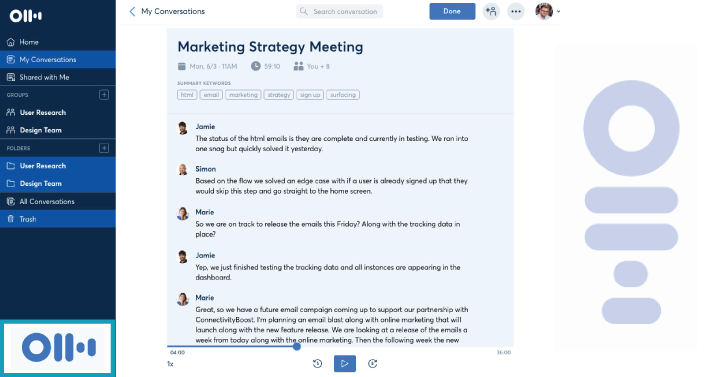 Otter.ai is principally designed with meetings in mind, but many of the features can benefit podcasters, too. If your podcast relies on interviews or co-hosting over a video communications platform, for example, the Otter Assistant AI can join the call and record the conversation for you, simultaneously transcribing as it goes. This functionality is applicable to well-known tools like Zoom, Microsoft Teams and Google Meet.
You can follow along with the live transcription through a web browser or the Otter.ai app, making notes that can be helpful in post-production. The notes will also automatically capture any visual material displayed during the call, which can be useful if you are creating a video podcast that includes graphics or graphs.
Price: Free for the Basic package, which includes real-time recording and transcription, automated summaries and slide capture, and transcription of up to 300 minutes per month (30 minutes per session). Upgrade to the Pro tier for $8.33 per month and receive 1,200 minutes per month (90 minutes per session) as well as the ability to import audio or video files from elsewhere for Otter to transcribe.
3.2 Podcastle
Podcastle has several AI-enabled tools, including the ability to remove background noise, pauses and even filler words with just a few clicks of the mouse. Its Magic Dust button also facilitates auto leveling to even out the volume of participants.
On top of the sound editing features, the software has an automatic speech-to-text transcription service. More distinctively, it can also go the other way, turning text into speech. The Podcastle AI extension for Chrome enables you to transform the words on a webpage or in a Google Doc into speech, so you don't have to manually record it yourself.
Price: Free forever, including 3 uses of Magic Dust, 3 uses of 1-click silence removal, 3 uses of auto leveling, 1 hour of speech-to-text transcription and 10,000 characters of text-to-speech audio per month. Upgrade to the Storyteller tier for $11.99 and you get unlimited use of the editing features, plus 10 hours of speech-to-text transcription and 400,000 characters of text-to-speech audio per month.
3.3 Buzzsprout
Magic Mastering is what Buzzsprout calls its AI podcast editing function. Described as an Instagram filter for audio, it's among the best AI tools for podcast creation if you want to balance out your recording, sweetening sound using frequency filtering as well as noise, hiss and hum reduction.
The software engineers each episode to comply with Apple's authoring best practices, so you don't have to worry about meeting the technical specs. Simply upload your episodes and Buzzsprout will automatically take care of things like file type, bit rate and ID3 tags. You can then schedule when you want the episodes to go live.
Price: Buzzsprout does have a free tier, but if you want to access the Magic Mastering tool, you have to subscribe to one of the paid options, which start from $12 per month. None of these subscriptions include Magic Mastering – you have to pay an extra $6 per month for the add-on.
3.4 Descript
One of the all-round best AI tools for podcast recording, Descript's Studio Sound program isolates each speaker's voice, before enhancing the audio quality while removing echo and background noise. No manual rejigging required.
The software generates a 95% accurate AI transcription, with 23 languages supported. This transcript can be embedded as subtitles for a video podcast or used to automatically identify filler words, which you can then selectively remove. Similar to Podcastle, Descript has a text-to-speech function, which you can utilize to overdub sections of your podcast recording in your own voice.
Price: The free subscription comes with 1 hour per month of transcription, basic filler word removal, limited overdub and up to 10 minutes of Studio Sound reengineering per file. The $12 Creator package boosts transcription to 10 hours per month and provides 60 minutes of Studio Sound AI editing per file.
3.5 Podcast.co
While Podcast.co doesn't help with podcast mastering, it does help automate the process of sharing your podcast to multiple platforms, including Spotify, Apple Podcasts and Google Podcasts. The transcription add-on enables you to adapt audio or video recordings into blogs for more diversified content.
The most useful Podcast.co AI feature, however, is the Podcast Pages tool, which will automatically generate a webpage for your show based on a few simple inputs. If you want, you can then build out this basic landing zone according to your personal preferences, but the foundation will be laid with almost no design time required on your part.
Price: Podcast.co offers a free trial but no free tier. Pricing starts from $19 per month, including a basic podcast page. The transcription service is an add-on that costs $20 per month for 10 hours of audio transcription, though you can try before you buy.
3.6 Auphonic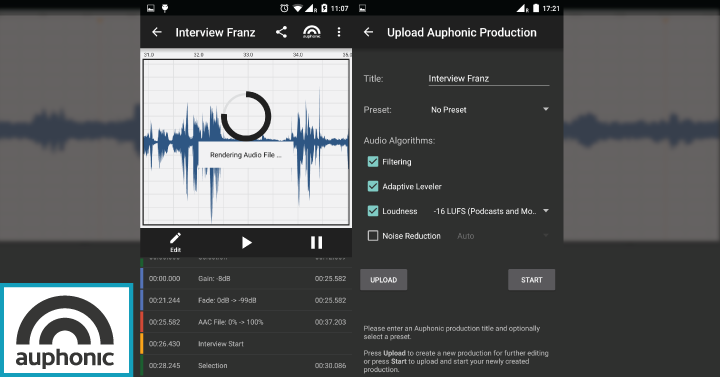 Auphonic saves time for both the amateur and professional podcast maker with tools like an adaptive leveler to ensure the same loudness for all speakers and adjustable noise reduction so you can decide how much ambient sound to cut or keep. The AI sound editing features also include frequency filtering and a 'De-Esser' to remove sibilance.
For automatic speech to text, Auphonic uses OpenAI's Whisper program. It also has integrations for other speech recognition services, including Amazon Transcribe, Google Cloud Speech API, wit.ai and Speechmatics.
Price: Auphonic is free for up to two hours of processed audio per month. Beyond that, you have to purchase credits for additional hours, starting at $11 for 9 hours of processed audio on a recurring monthly scheme. All paid usage comes with free transcription.
3.7 Adobe Audition
For podcasters who like to have a lot of manual control over their sound, Adobe Audition is a popular choice, as it comes with a huge depth of features. Precisely because of all these features, it's probably one of the more difficult tools to learn and use, though it does come with some presets to help you automatically adjust the sound without going into too much manual rejiggering.
Recognizing the complexity of their Audition tool, Adobe is currently testing a beta version of another program called Adobe Podcast. This is geared much more towards people who want to create great shows without having to dive into the complexities of sound engineering. Like several other options on this list, it features AI that automatically removes background noise and sharpens vocal frequencies.
There's also a speech-to-text function that enables you to edit your audio by deleting words from an AI-generated podcast transcript.
Price: Adobe Audition costs $20.99 per month. Adobe Podcast is currently free with an Adobe account, but you have to request access while it's still in beta.
3.8 SpeechText.ai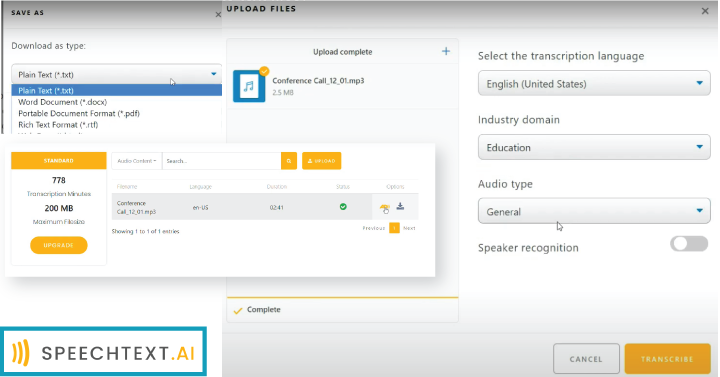 SpeechText.ai is one of the best AI tools for podcast transcription. Its software claims a 96.2% accuracy rate, which is higher than most of the other tools on the market and only slightly lower than human transcriptionists.
The program can work with both video and audio in more than 30 languages, including English, Chinese, Japanese, German, Spanish, Italian and Hindi. Bear in mind that you can't record through SpeechText.ai, so you'll have to have another system to capture the audio, before uploading to SpeechText.ai afterwards for your transcript.Price: Subscriptions start from $10 per month, including 180 transcription minutes.
3.9 Resound
Another product that's in beta phase but worth checking out is Resound, a really simple product that focuses on doing one specific thing well: removing ums and ahs from recordings. The AI automatically detects and highlights places where these occur in a podcast, then asks the user to confirm whether they want to delete the filler word.
Using the software, you can upload multiple tracks (up to 4 speakers, depending on subscription tier) simultaneously, then export the result in WAV, MP3 or AAF format.
Price: Free for 1 hour of processed audio a month, with 1 track per project and 7 days of storage. Pricing starts from $12 per month, which includes 4 hours of processed audio, with 2 tracks per project and 14 days storage.
3.10 Cleanvoice.ai
A slightly more sophisticated voice editor, Cleanvoice removes filler sounds (um, ah), mouth sounds (stuttering, clicking) and dead air from podcast recordings, leaving you with a smooth-sounding episode. The AI can automatically make all corrections for you, or you can opt to manually check through its suggestions to individually approve any changes.
The program also includes a function to eliminate background noise. Just like Resound, Cleanvoice supports multitrack editing.
Price: Subscriptions start from €10 (approximately $11) for 10 hours of processed audio, though you can test the product for free on 30 minutes of audio.
4. FAQs
What is the best AI software for making podcasts?
Some of the best AI tools for podcast creation are devoted to noise EQ and cleaning up ambient sound, such as Buzzsprout. Others like Otter.ai specialize more in transcription. Which is best depends subjectively on what is most useful to you.
What does Podcastle AI do?
Podcastle AI can automatically reduce background noise and auto level the volume on your recordings, as well as transcribe all your audio into words. Additionally, the Podcastle text-to -speech function means you can turn sentences on a webpage into audio with just a few clicks.