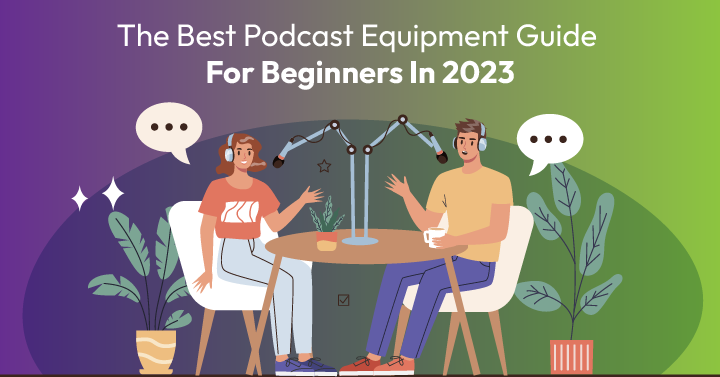 April 12, 2023

By

/

In

Equipment
In a crowded podcast market, investing in the right items upfront gives your show the best chance of success. That's why this podcast equipment guide for beginners covers not just the bare necessities, but more advanced things like mixers and acoustic treatment options, too.
Yes, purchasing all these bits and pieces can entail some significant upfront costs. However, there are usually budget options in every category. While these may not reach the same heights in terms of quality, they are perfectly adequate for people embarking on their first podcast journey.
1. Why Is It Vital to Have All the Necessary Podcast Equipment?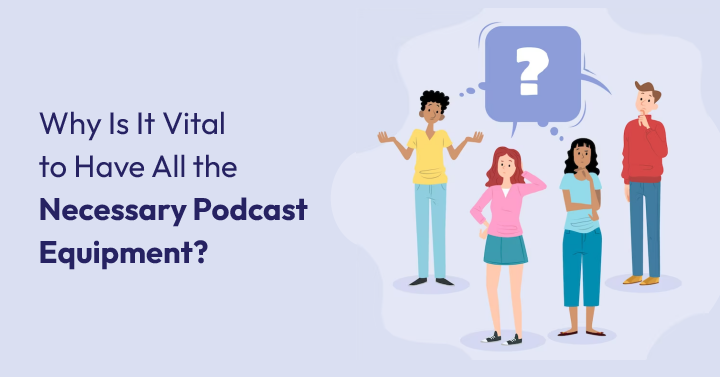 If you want to make your podcast a success, the quality of the sound is going to be a key factor. Hard-to-hear recordings with lots of distracting background noise and painful plosive popping can instantly make listeners turn off, regardless of how good the content is.
2. Questions to Ask Before Making a Purchase
1. How serious are you about making podcasts?
Is your podcast a fun side project or a serious undertaking? Are you just doing it with a couple of friends or hoping to create a new business opportunity?
Your answers to these queries should help you determine how much money to spend on equipment. If your podcast is more of a hobby, then you probably won't want to splash out on the most high-end gadget.
On the other hand, if you hope to monetize your content and make it a significant source of income, it may be worth buying top-notch mics and mixers to create a polished, professional product.
2. What is your budget?
Even if you are starting a podcast with an eye to making it a money spinner, you may not initially have a big budget. That's absolutely fine, as you can still create a quality show without the most technically advanced equipment. The most important thing is not to overspend before you even get started.
3. Where will you record the podcast?
The place you record your podcast will impact what you need. For example, if you are recording in an environment with lots of reverb, you will probably need to purchase some kind of acoustic equipment to improve the sound quality.
You may actively seek to record your podcast in an environment with some ambient noise to give the sound a bit of texture, like if you conduct interviews in a cafe or at a conference. In this case, you'll need different kinds of mics from those you would use when you're in a quiet room and only want to capture the crisp, clean sound of human voices.
4. Can you manage all the things alone while making a podcast from scratch?
It's possible – and often advisable – to correct sound and add effects as you are recording. This will save you time on production later on when it is usually more technically difficult to fix audio issues.
However, this requires a level of familiarity and dexterity with mixer and/or audio interface equipment. As this is a podcast equipment guide for beginners, it's certainly worth noting that you may not want to include more complex devices at the start unless you have an assistant or friend helping out.
You may find you are more comfortable just sticking to plug-and-play devices like USB mics, which simplify the recording process.
5. Will you record videos?
Video podcasts are becoming increasingly popular. In fact, one piece of research last year revealed that 57% of people prefer video podcasts over ones that are audio alone.
If you do decide to jump on the trend, you'll obviously need to invest in camera equipment in addition to your mics. These are considerable additional expenses, particularly if you intend to shoot more than one participant and/or feature different angles. Having said that, video podcasts also open up the opportunity to broadcast on YouTube or create teaser clips for popular social media sites like TikTok and Instagram.
6. How many people will be involved while making the podcast?
Some podcasts involve just a single person speaking, which means you'll only need one mic and one pair of headphones. The majority of shows, however, have at least two people, whether that's two hosts or a host and a guest.
Obviously, the podcast equipment for 2 people means an exponentially higher outlay in startup costs. That ranges from not just mics and headphones for each participant, but also the audio interface. Podcast equipment for 4 people, for example, will need to include an audio interface with 4 mic inputs.
As a result, the type of show you're making will play into your budgeting concerns and vice versa.
3. Podcast Equipment List for Beginners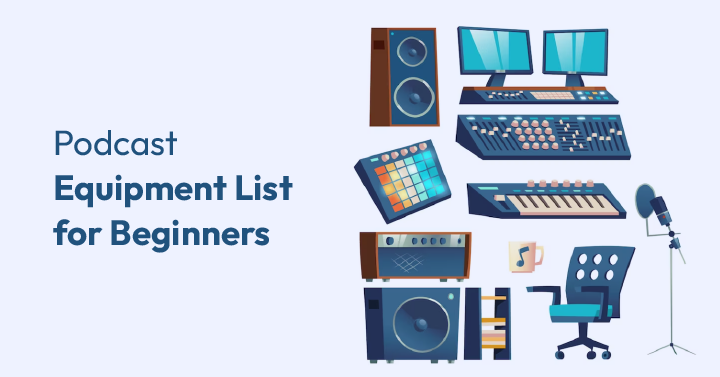 3.1 Podcast Essentials
1. Computer
Almost every podcast equipment guide for beginners commences with the computer because it's the only thing that's absolutely essential. After all, if you want to go really bare bones, you can just about manage to create a solo podcast by relying on the mic on your computer.
You will need a computer not only to store your raw recordings but also to edit and produce each episode, before finally uploading to the internet and sharing on podcast hosting sites.
There are several considerations to make when it comes to computers. Do you go for the portability of a laptop or the higher processing power of a computer? Do you prefer using a PC or a Mac?
Returning to the question of budget, it may just make sense to stick with whatever device you already have, provided it has large enough memory to manage the digital audio workstation (DAW) where you manage your recordings.
Best laptop for beginners: The Acer Aspire 5 is a solid laptop option for $549.99. While MacBook models are popular with professional podcasters, this is a much more affordable option to get you started, with 8 gigabytes of RAM and a 256 gigabyte SSD. Plus, there's a built-in 1080p camera, which is good enough for a beginner video podcast.
Best desktop for beginners: With a 24-inch-wide, 11.5-millimeter-deep screen, the iMac is a powerful desktop device with a sleek combined monitor and computer. The most affordable model comes in at $1,299 and includes 8 gigabytes of unified memory, 256 gigabytes SSD and a 1080p FaceTime HD camera.
2. Smartphones
Instead of investing in a separate recording device when conducting interviews away from your computer, there are several setups you can create with just your smartphone.
Almost all phones these days come with recording apps, or you can download options like Awesome Voice Recorder.
Just because you're using your smartphone doesn't mean you have to rely on the built-in microphone. There are mics designed to plug into USB-C, Lightning and 3.5mm handset ports, as well as gadgets that will interface between more professional-grade mics and your mobile device.
Best microphone for smartphones: Sennheiser's XS Lav series has different connectors for different styles of phones. Priced at $49.95, these omnidirectional microphones are designed to easily clip onto clothing.
Best audio interface for smartphone: The $79 Rode AI-Micro is an intermediary device that allows you to connect two mics as well as a pair of headphones to your smartphone. The downside is it's only designed for 3.5mm jacks.
3. Microphones
USB Microphone
USB mics are designed for ease of use. They can be connected directly to your computer without the need for additional equipment to convert the analog sound waves to a digital format. This makes them both a more affordable option and a simpler plug-and-play choice, which is obviously ideal for beginners.
Best budget USB microphone for beginners: At $49.99, the Snowball iCE from Blue offers quality for an affordable price. It combines the sensitivity of a condenser mic with a cardioid polar pattern that focuses on sound coming from the front and sides.
Best overall USB microphone for beginners: Blue really do make some of the best USB mics out there, including the Yeti X. It's certainly more expensive at $169.99, but for that price, you're getting better quality audio as well as a smart knob that allows you to instantly (and easily) adjust microphone sensitivity and headphone volume, among other features.
XLR microphone
XLR mics are part of the classic audio setup that professionals rely upon. While they are more old-school than USB mics, they also continue to outperform their younger siblings when it comes to sound quality. However, they are more complicated to use and tend to cost more.
Another thing to consider is that XLR mics have 3-pin connectors, which means you'll need some kind of intermediary device between the microphone and your computer. For people who want more control over their sound, that's usually an audio interface or a mixer, though not exclusively. This 2-person podcast kit Amazon sells, for example, comes with adaptors that allow you to connect your XLR mics into your computer without an audio interface.
Best budget XLR microphone for beginners: The Samson Q2U is a steal at $69.99. As a dynamic mic, it is less sensitive, which can be beneficial if you're recording in an environment with a lot of background noise. Plus, it has a foam windscreen to reduce unpleasant plosives and fricatives.
Best overall XLR microphone for beginners: Premium in every sense of the word, the Shure SM7B is a masterpiece of construction that costs $399. Aside from capturing crisp sound, it has bass roll-off and mid-range emphasis controls, as well as a built-in pop filter and electromagnetic shielding.
4. Headphones
Headphones are one of the three backbones of podcast recording, along with a computer and mics. They allow you to check the sound as you record and adjust your setup accordingly.
We strongly recommend closed-cup headphones over buds, as they are much better for shutting out background sound and give you a more accurate sense of what is being recorded.
Best budget headphones for beginners: If you want the confidence a big-name brand brings without the big price tag, the Sony MDR-7506 is a professional option with solid sound. You can nab these online for $88.Best overall headphones for beginners: Of course, there's sound and then there's sound. The Beyerdynamic DT 900 Pro X is top-of-the-line and a favorite of pro engineers who value crisp noise regardless of whether it's used with an audio interface, laptop or smartphone. The cable is XLR, but the headphones come with a 3.5mm jack adaptor.
3.2 Additional Podcast Equipment
1. Pop filter
Of course, not all mics come with built-in pop filters, which is why you might want to purchase one separately. These handy devices reduce popping sounds caused by plosives in normal speech, which can sound harsh on the ears of your listeners.
Effective pop filters can be purchased very cheaply, though as with all audio equipment, the top-of-the-line stuff comes with a hefty price tag.
Best budget pop filter for beginners: The Dragonpad USA is a mere $10.99 on Amazon. It can be attached to almost any mic stand setup with its bracket and screw.
Best overall pop filter for beginners: At $99, the Hakan P110 Pop Killer is more expensive than some mics. For the podcaster who is obsessed with optimizing sound, however, the special foam material diffuses popping without distortion.
2. Acoustic treatments
Not strictly necessary in a podcast equipment guide for beginners, acoustic apparatus are worth touching on because they can vastly improve recordings in make-do studio spaces.
Common items include bass traps to absorb low-frequency vibrations and acoustic panels to reduce reverb.
Best bass traps for beginners: You can pick up a 4-pack of cheap and cheerful JBER bass traps for $16.99.
Best acoustic panels for beginners: IZO's Egg Crate acoustic panels are 2 inches thick and cost $14.99 for a 6-pack.
3. Shock Mount
Shock mounts are designed to reduce noise caused by vibrations, such as when a microphone is bumped or an object is moved across the desk. They aren't essential but can improve sound quality.
Best shock mount for beginners: You can get cheaper options than the $79 Rycote InVision USM shock mount, but the benefit of paying a little more is that this is a universal model, meaning it works with all mics that weigh up to 750g and are between 18-55mm.
4. Portable Audio Recorder:
It can be handy to have a separate piece of equipment to make your podcast recordings on. This is particularly true if you want something that's more portable than a computer but able to deliver higher quality audio than a smartphone.
Best budget audio recorder for beginners: At $89, the Tascam DR-05X balances price with quality. It boasts a pair of internal condenser microphones and can record up to 17.5 hours of material on 2 AA batteries (USB powering is also possible).Best overall audio recorder for beginners: Zoom is the go-to brand for audio recorders, with a whole range of prices and functionalities. The ergonomic PodTrak P4 was made with podcasters in mind, with 4 inputs for mics and 4 inputs for headphones, plus dials for gain control and volume. The average battery life is 3 to 4 hours. Price: $219.99.
3.3 Podcast Software
1. Recording Software
No podcast equipment guide for beginners would be complete without mentioning the kinds of software you'll need as part of your setup. First off, recording software is the tool you will use to capture and store your audio.
If you've got your computer on hand, you should really be utilizing combined recording and editing software. Especially for new podcasters, why complicate the issue by getting two separate pieces of software?
If you're on the move and only have your smartphone with you, however, there are numerous apps to help you capture audio, as mentioned above.
2. Editing Software
Editing software, or more technically DAWs, are where you cut your recording to the desired time length, tidy up any frequency or reverb issues, and add in sound effects.
Some popular pieces of software are designed purely for PC or Mac, so this may play a part in your final decision. It's also worth noting that there are several free options that are ideal for beginners who don't want to fiddle too much with their raw files.
Best editing software for beginners: Audacity, hands down. Not only is it free, but it also streamlines your recording and editing process with a simple user interface. There are other paid subscription options out there with a greater breadth of features, but these are also more complicated and, frankly, can be overwhelming for beginners.
3. Podcast hosting platform
Podcast hosting platforms are where your episodes will be stored. From here, they can then be distributed to Spotify or Apple Podcasts. Hosting services take a lot of the effort out of syndicating your show. They also mean you don't have to store the finished episodes on your own website.
Best free podcast hosting platform for beginners: Buzzsprout offers 2 hours of audio uploads per month, which is just about enough for weekly 20- to 30-minute episodes.Best paid podcast hosting platform for beginners: Buzzsprout has excellent paid subscriptions, as does one of its main competitors, Podbean. For $9 a month, you get unlimited storage and unlimited bandwidth, plus monetization options.
3.4 Podcast Accessories
1. Mixer
Mixers take your recording setup to a higher level, with sliders and/or dials to help you adjust your audio in real-time. You can get simple, portable ones for single mic inputs or huge boards that can accommodate four or more people, each with separate controls for things like gain and EQ.
If you plan to regularly record interviews over Microsoft Teams or Zoom for your podcast, make sure you check for a mix-minus function. This allows you to isolate inputs so participants don't get an echo of their own voice.
Best budget mixer for beginners: The Mackie 402VLZ4 comes with 2 preamp mic inputs, making it ideal for a pair of hosts or one guest and one host. It does come with EQ and low-cut filter dials to even out sound variations based on frequency, but no mix-minus. Still, $129.98 is an excellent price.
Best overall mixer for beginners: Some mixers are designed specifically for podcasters, including the RodeCaster Pro. It's reasonably portable and features inputs for 4 XLR mic inputs, as well as smartphone, USB and Bluetooth channels. Automatic mix-minus is included. Price: $599.
2. Mic stand
There are a couple of minor pieces of equipment that round out a beginner's kit. First is the mic stand. Most podcasters opt for a boom arm mic, as it is easily adjustable and can be positioned on a desk.
For basic things like a mic stand, you really don't need to spend a lot of money. The K Kasonic, for example, is perfectly adequate at $13.99.
3. Cables
Check if your mics, headphones, mixers, etc., come with their own cables. If not, you can easily purchase reasonable quality without spending big. The most common ones you'll need are XLR cables for mics.
Pig Hog has all manner of cables and adaptors available, many with a lifetime guarantee.
4. Headphone amp
Rounding off this podcast equipment guide for beginners is the headphone amplifier, which improves the sound coming through your closed cups. As a beginner, you really don't want to spend too big in this area, as even basic ones don't come cheap. For $109, the Schiit Magni+ is an affordable option that still comes with features like adjustable gain and volume control.
4. FAQs
What do I need to start an audio podcast?
Ideally, everything listed in this podcast equipment guide is for beginners! If you're on a tight budget though, the essentials are a computer, a mic and a pair of headphones.
Do I need a mixer for a podcast?
Though they aren't strictly necessary, mixers can vastly improve the audio quality of your recordings. Having said that, if you're just starting out in the podcast game and don't have much experience with sound engineering, they may prove more of a hindrance than a help.
How do I start podcasting myself?
There are two key aspects: fleshing out a unique concept for your show and purchasing the right equipment to make it happen. Once you've got those two things covered, you're all set to start.
How do I start a cheap podcast?
One of the cheapest ways to get started is to purchase one of the bundles of podcast equipment for beginners Amazon sells. However, bear in mind that these aren't necessarily the highest quality options on the market.