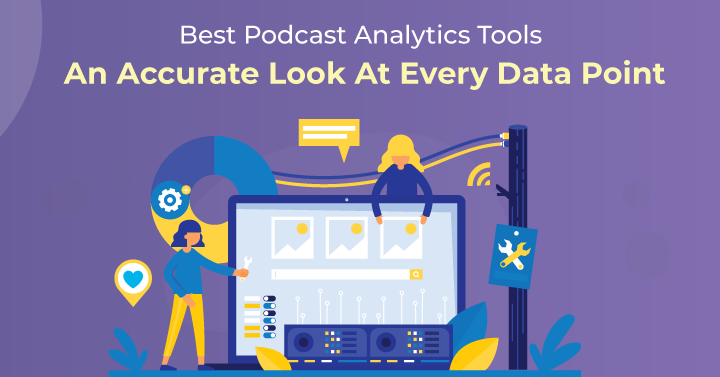 April 19, 2023

By

/

In

Equipment
Anyone hosting a podcast channel would be well aware of how analytical data can make or break a channel. The best podcast analytics tools provide any business – big or small – an insight into how well they're performing in real-time, as well as allow them to identify and mitigate risks that may arise in the business' near future.
The same applies to those attempting at understanding podcast analytics. It could be to further better the performance of their channel, scout for topic points beloved by followers and fans, as well as gauge the length at which content can be monetized. So, if you're one of those, you might want to join us as we break down the complexities of such tools and drop you a few pointers on where you can find a couple of podcast analytics tools free. Let's get to it!
1. What are podcast analytics tools?
As said a little while ago, analytics is a data break down insights of your channel as it progresses day-to-day. With these graphical or numerical representations, you'd be able to pick out a few key actionable insights to work on, with a goal to better the podcast experience on your channel. These data points could be anything connected to your pod – engagement rates, demographics aggregates, episode performance, even the fruition of monetization assets.
2. Importance of podcast analytics tools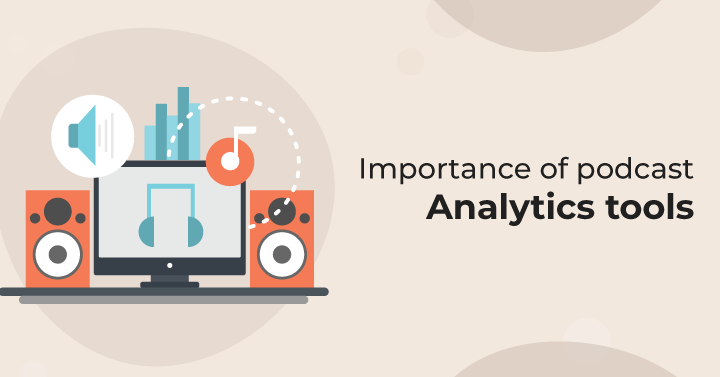 With the figures you'd be able to scrape with these tools, you can go on to work out a solid strategy to bring your podcast channel(s) further by tweaking a couple of things that your podcast already has or will need. These could be a combination of podcast content points, audience age and location details, monetization performance, or any relevant data that becomes necessary when assessing the success of your channel.
3. Key features of podcast analytics tools
3.1 Downloads and listenership data
With most podcast analytics suites, you'd be able to access the total number of listeners per episode as well as keep track of the downloads. These two key metrics tell you not only the discussion topics that they are interested in but also the ones that nudge your listeners to save and come back to at a later date. This information is great for tracking listener experience as well as their reception towards specific topics and speakers.
3.2 Demographic data
Insights on your podcast demography will give you a look into the kind of people your podcast topics attract. They could be a professional or casual listener segment – even an overlapping one. With this information, you should also have access to details like where your audience sections are from, their age and gender, as well as their unique classes of social and economic segregation.
3.3 Engagement metrics
This is probably one of the no-brainer metrics – the more people engage with your podcast, the higher its value and indirectly, your marketing efforts. Engagement comes in a variety of forms, including likes, episode saves, views, and downloads. Having this on your analytics tracker helps you see which methods of marketing you use works with each audience segment as well as a whole. In addition, engagement also gives a hint on topics your audience are inclined to, as well as their interest in guest speakers.
3.4 Monetization features
With a lot of the best podcast analytics tools, you'd be able to find features to assist with monetization of your podcast channels. These can include dynamic ad inserts on your episodes, sponsor tracking, and a variety of affiliate links to add to show notes, episode descriptions, and various areas across your podcast platform and website setups.
3.5 Integrations with other tools
All of the best podcast analytics tools would come with the ability to link to various platforms as well as work hand-in-hand with other 3rd party marketing tools. In a lot of instances, there are software that can pull your analytics data from across available input sources to later present them to you in a unified view. With a combination of data points presented this way, designing a more cohesive podcast marketing strategy would be way easier.
4. Best podcast analytics tool for podcasters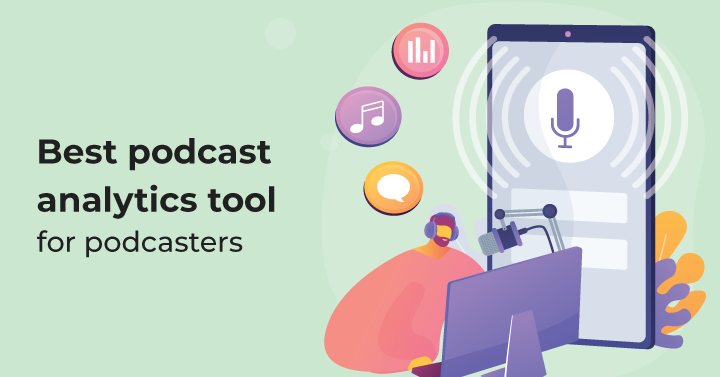 4.1 Libsyn
The Libsyn platform is an integrated podcast creation unit that allows podders of a range of skill level to create and manage their podcast channels. Features include in-app content recording and tutorials, massive libraries of royalty-free media you can use with your pods, dynamic ad integrations, as well as simplified remote recording. Not only can you make your podcast episode right from Libsyn, go ahead and share them on major platforms including – Apple Podcast, Google Podcasts, and Spotify.
The suite also takes care of your publishing needs by allowing you to manage and schedule your episode releases from a single contact point, aside from integrating with branding provision platforms – like Canva. Their unique approach to monetization via their proprietary Libsyn Glow subscription management structure will allow you the flexibility of building leads and your very own listener community building. With Glow, you can also begin to offer premium and exclusive content to your subscribers.
Pricing : starting at $ 5
4.2 Simplecast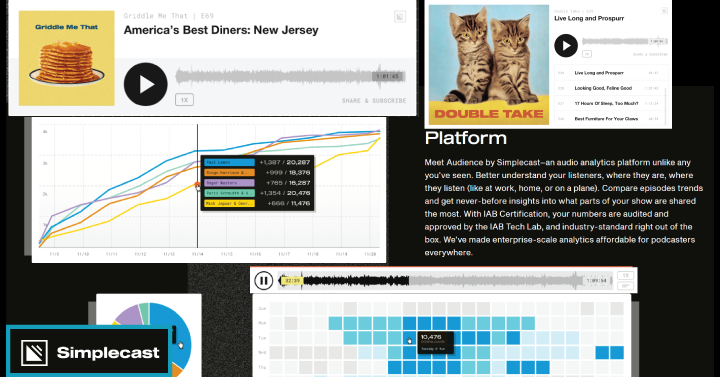 Simplecast is a great pick for those looking for Spotify podcast analytics suite. Although it does also offer analytics for podcast hosting sites like Apple and Google, their Spotify toolkit is decked out with simplified social sharing and player embeds, podcast episode management, and detailed analytics break down that even includes devices. With a complete suite like this, you'd be able to manage multiple podcast channels from a single point.
To add to that, you will be proffered with real-time, multi-show analytics tracking – including a demographical breakdown of your engagement. Their team also assists porting from one podcasting platform to another with their set-up and migration services and dedicated priority customer channels.
Pricing : starting at $ 15
4.3 Blubrry
Connect, monetize, and grow your podcast channels with a suite like Blubrry, especially when you're looking to manage podcast analytics for Apple Podcasts. View your engagement rates, affiliate metrics, monetization, and lead generation efforts, and enjoy a monthly storage space of 1GB across all your podcasting activities. With that, you'll also have access to their Pro Production team to help you manage your podcast creation, strategy, and publishing of your content so you'll have more time for everything else.
They even offer their users free migration services and a chance to formally train with them in the art of pod creating and hosting. Plus, with premium plans, you'll be able to use your own domain to host your podcasting content, alongside gaining access to more in-depth insghts breakdown for your channels. For selected publishing platforms, say Apple, you will be automatically granted premium publishing authority and toolkits too.
Pricing : starting at $ 10
4.4 Podtrac
Podtrac is a great option for looking for an option in podcast analytics for advertisers. It offers both beginner and advanced level tools, making podcasting a breeze for those doing it on any scale. Even advertisers and agencies would be able to get their hands on a tailored plan including ad campaigning tools, weekly and monthly trend tracking, and access to top industry data and historical rankings – approved by the Interactive Advertising Bureau (IAB) – to help you come up with the best strategies for your podcast marketing efforts.
With monetization efforts, they will be able to lend a hand with strategizing, creatives, even podcast direction with their proprietary Authentic unit. With a proven record of 50% increases in sales intent, Authentic is designed to assist those with over 10,000 downloads per episode understand the metrics they need to keep an eye on as well as how to utilize these key data points in their future growth strategies.
Pricing : starting at $ 20
4.5 Chartable
Chartable is one of the best podcast analytics tool for those who are nitpicky about their data collection. With its patented SmartLinks multi-channel pixels, you'd be able to track your progress across Apple Podcasts, Google Podcasts, and a variety of hosting platforms, with just a single tracking link. Their Smart Promos is yet another great toolkit to help you keep an eye on your promotions and marketing labors, right down to the specific conversion action a user takes.
The suite features direct email that can be tailored to be sent to your daily or weekly. Chartable also makes it simpler for you to create unique insights dashboards that you can share with the team at a single tap. Set triggers for each of your pod episodes so that you'd be alerted in real-time when a significant event happens. Try it on for size by requesting a demo with them and see how it goes from there.
Pricing: starting at $ 20
4.6 Podbean
Podbean is a unique one on this list of best podcast analytics tool – it's a solution designed for private podcasting. It's great for companies and teams seeking out options to create podcast episodes for internal circulation, including training, capturing of events happening within the organization, even communications between departments and teams. Its unlimited admins feature, coupled with a range of user roles, helps you manage and collaborate on a project with seamless communication.
What's better is that each of your episodes is stored with encryption protection, ensuring that none of your company game plans are leaked to the outside. And you'll be able to set up an SSO login to ensure that all your content can only be accessed exclusively by those part of your organization. On the analytics side of things, data points you see will be tailored right down to individual users, giving you better understanding of the success rates of your episodes.
Pricing: starting at $ 9
4.7 Transistor
For Google Podcast analytics, look no further than Transistor – a podcast hosting platform with every publishing and insights solution you'll need. Not only can you monitor engagement and download rates, there's also tools to help you compare and contrast between data from two episodes to see how they've fared relatively. In addition, there are features like demographic maps, device registries, as well as the distribution of both your public and private podcasts.
The suite also manages your publishing efforts by allowing auto-posting to Youtube, using embeddable video player codes to give flexibility to where you put up your episodes, as well as dynamically including ad snippets on strategic timestamps to maximize your monetization potential without boring and overwhelming your audience groups.
Pricing: starting at $ 19
4.8 Anchor (Spotify For Podcasters)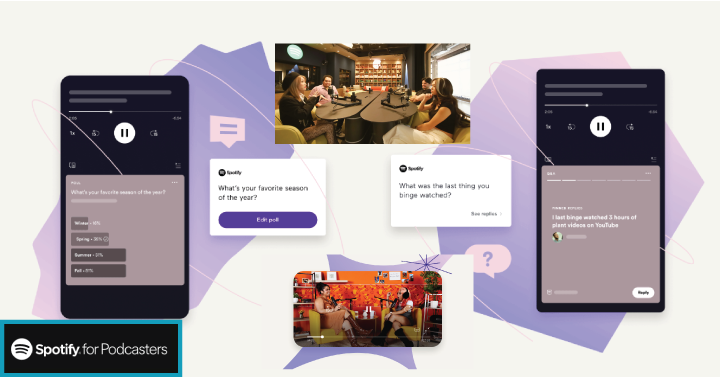 Anchor is Spotify's proprietary podcast hosting app, perfect for those first-timers in podcast monetization. With this app, you can create your podcasting media while simultaneously injecting a few money-making ads and integrations from a single contact point. And with most of the best podcast analytics tool picks, they allow cross-uploads to almost every hosting site there is. The only downside with this is that you'll have to accord to a 30% revenue share with Spotify.
However, the ability to edit, manage, and build your episodes right from the app interface makes it worthwhile. Not only will you have access to detailed analytical figures, there will also be summaries that you can easily share with your marketing team at the tap of a button. Plus, you can inject a bit of engagement into your episodes by having a Q&A session with the audience or reel them in with thought-provoking polls.
Pricing: Free
4.9 Castos
This simplified suite is great for beginners in podcasting. Castos offers a less technical approach to podcast analytics, where you'd be able to monitor your listener patterns, browsers and devices that are used, as well as a demographic map for your audience segments. They're very proactive with their updates and feature-additions – there are customizable report downloads, subscriber numbers, and episode playback monitoring coming up with this suite.
This analytics tool allows for Youtube republishing of your content, to get you a piece of the traction and traffic from the world's largest search engine cum video depository. It also comes with automatic transcription for each of your episodes, making it easier for non-listening audience members to follow your episodes. And if you're looking to launch on a larger scale, their professional publishing and editing team are always available to take on your episodes for you.
Pricing: starting at $ 19
4.10 Backtracks
The last entry on this list of best podcast analytics tool options is Backtracks. A suite tailored for audio podcasts, it offers a huge pick of tools that help you create, edit, mix, and manage your content directly on the platform. Interestingly, it also adds value to your audio SEO, allowing more to discover your streams, without a visual aid. Its copy and paste build adds to the flexibility of platforms it can actively work on.
Use Backtracks Switchboard for real-time podcast insights from anywhere and just about any handheld device. Its built-in fraud detection algorithm tracks bot traffic and elimitaes them along with other outliers for a cleaner data pull. To further your listener data, the platform has its own charting algorithm to help you know how well your channel is doing in comparison to other users on Backtracks. Support for monetization efforts are available with storefront integrations, multi-language and varied currencies support, as well as ad performance tracking.
Pricing: Free
5. FAQs
What are good analytics for a podcast?
With any podcast, it's always a good idea to monitor downloads, listener activity, play durations, as well as keep an eye on topics that seem to be a hit with your audience segments. These essential data points would be a great help in boosting your podcast performance.
Which podcast hosting has the best analytics?
Blubrry is by far the best analytic tool pick for both beginners and more adept podcasters. Despite having a simplified, easy-to-use interface, this suite does offer features that allow you to dig deep into insights to see where you'll need to focus your marketing efforts on.
How do I get better podcast analytics?
In order to be able to get the best out of your podcast data, you'll first need to identify the key metrics you'd need to monitor for your particular brand of podcasting. Once you have that, it would be a breeze to pick out an analytics tool that works best for you.