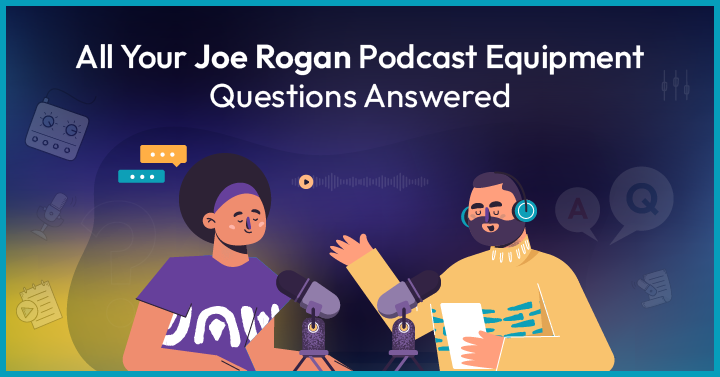 April 12, 2023

By

/

In

Equipment
Joe Rogan is one of the most popular podcasters in the world. He's so huge in the US that he had the most listened to podcast last year on Spotify, with more than 200 million users downloading at least one show per month. Considering his success, it's not surprising that a lot of people want to snap up the same Joe Rogan podcast equipment to record their own shows.
While you may not be able to use the Joe Rogan podcast studio, you can easily purchase everything in it, from his mics and headphones to the chair he sits on while he's laying down his straight-talking shtick.
1. What gear does Joe Rogan use for his podcast?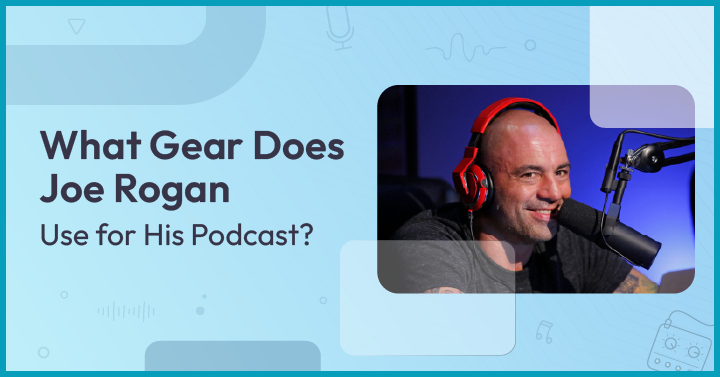 1.1. Microphone: Shure SM7B Vocal Dynamic Microphone
The first question everybody wants to ask is what podcast mic does Joe Rogan use. The answer is he goes with the tried and true: the Shure SM7B. This brand and model is pretty popular with podcasters generally because its vocal reproduction is crisp and clear. It comes with a pre-installed pop shield that eliminates issues related to plosives and has excellent off-axis noise rejection to cut down on all background sounds. This is aided by the cardioid polar pattern of the mic, which makes it more sensitive to directionality and better at blocking out overly loud ambient noises.
This model of Shure mic gives you the option to select between different frequency options. The Joe Rogan SM7B settings, by the way, are set to flat rather than bass roll off or mid-range emphasis, as his voice isn't particularly low or high and there aren't any instruments to worry about.
1.2. Microphone Arm: Gator Frameworks Deluxe Desktop Mic Boom Stand
Microphone boom arms are more maneuverable than your typical stand as well as freeing up more space on your desk. If you're like Joe Rogan and also film your podcasts, they look cool, stylish and professional. Put simply, they're very trendy right now.
The Joe Rogan microphone arm of choice is the Gator Frameworks Deluxe Desktop Mic Boom Stand. It's designed specifically for podcasts and can be rotated 360 degrees without effort or affecting the sound. It comes with a surface mount kit, standard mic threads for connecting mics and a 10-foot XLR cable concealed in the arm. To paraphrase Henry Ford, you can have it any color as long as it's black.
1.3. Headphones: Sennheiser HD 280 Pro Headphones
Why does Joe Rogan wear headphones? Because like all podcasters, he needs to hear how he (and his guests) sound as he's recording. This makes it easy to correct issues during the interview sessions, rather than going through the much more laborious task of trying to fix problems during post-production.
The Sennheiser HD 280 Pro is the Joe Rogan headphone of the moment. It's an affordable model that blocks out high and mid frequencies well, maintaining a balanced sound. The cups are comfortable while clasping tight to the head, so you don't need to worry much about the lack of noise-canceling ability.
1.4. Headphone Amplifier: Behringer Powerplay HA8000
One of the lesser noticed pieces of Joe Rogan podcast equipment is his amplifier. The Behringer Powerplay HA8000 is designed for studios and offers two stereo mains inputs. There are 8 independent channels, each with a mono/stereo switch to control the individual headphones that have been plugged in.
As with the headphones themselves, this amplifier is an inexpensive option. It's also wonderfully compact and therefore transportable.
1.5. Podcast Unit: Altinex Podcast Tilt 'N Plug Jr
The Altinex Podcast Tilt 'N Plug Jr (TNP130 for short) is a really easy-to-use tabletop interface with a few essential functions: a level control for headset volume and a cough button to temporarily stop recording when you've got something really tickling your throat. There's also a jack for the headphones, as well as one connector for HDMI and one connector for USB.
The whole thing has been designed to pop up out of the desk and slide back in with ease. As the name suggests, it was built by Altinex specifically with podcast recordings in mind. While it comes in black as standard, the company can customize the colors on request. Naturally, Joe has stuck with black.
1.6. Mixer: Behringer Xenyx X1222USB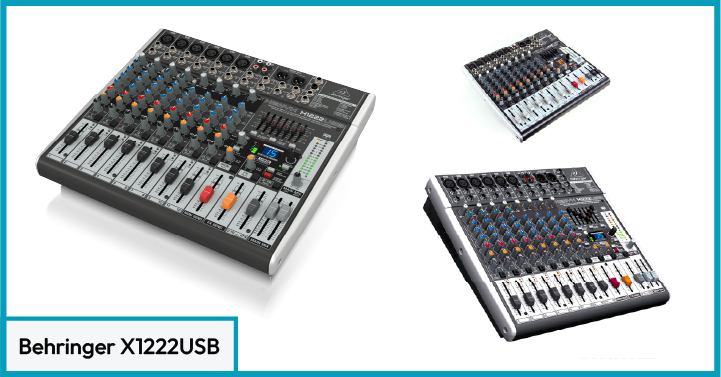 To go with the Behringer headphone amplifier, the Joe Rogan podcast equipment also features a Behringer mixer, the Xenyx X1222USB. This piece of gear is designed to make it really easy to achieve high sound quality and minimize post-production.
The mixer boasts 12 channels, 6 microphone inputs, a compressor for 4 mic channels and 4 stereo inputs. A particular standout is the great versatility of the four Xenyx preamps, which do an excellent job of bringing all the mic levels to a line level. Other features include 3-band equalizers, an effects processor with 16 editable presets and two aux sends per channel.
1.7. Audio Interface: Universal Audio Apollo FireWire Audio Interface
An audio interface helps podcasters by connecting recording equipment like microphones to their computer or digital audio workstation (DAW). The Apollo FireWire has 18 physical inputs (including four for mics) and 24 outputs (including two stereo headphone outputs).
Standout features include very low latency thanks to the preamps and high processing power due to the UAD-2 quad core. Plus, there are a whole host of plug-ins from Universal Audio you can tap into as well to enhance functionality.
1.8. Digital Audio Recorder: TASCAM DR-100MKII 2-Channel Portable Digital Recorder
Strictly speaking, there's no need for the Joe Rogan podcast equipment to include a digital audio recorder, since most of his shows are recorded directly onto a computer in his studio via the audio interface. However, it's a good idea to have one if you'll occasionally be recording on the road or just want to have a backup in case there's an issue with the file conversion from analog to digital.
The TASCAM DR-100MKII comes with 4 built-in microphones (2 cardioid and 2 omnidirectional), though obviously the 2 XLR inputs are more important if you're using your own mics. Unfortunately, it has actually been discontinued by TASCAM, but if you want the authentic Joe Rogan experience, you can buy one second hand – or just wait till he updates his equipment.
1.9. Multi-Camera Production System: Blackmagic Design ATEM Television Studio Pro HD Live Production Switcher
While most podcasters might not need a system to manage cameras, those who want to emulate Joe Rogan and film their recordings should consider investing in a multi-camera production system. This allows for real-time switching between various video feeds, website articles, graphics and other media, all via a single interface.
Blackmagic Design's ATEM Television Studio Pro system comes with 4 SDI and 4 HDMI inputs, meaning there can be a total of 8 different inputs, all with resynchronization for seamless switches. The control panel consists of one-touch transition buttons, downstream keyers and cut buttons, among other features. Plus, it's possible to plug in two XLR audio inputs.
1.10. Video Camera: Canon Vixia HF G40 Full HD Camcorder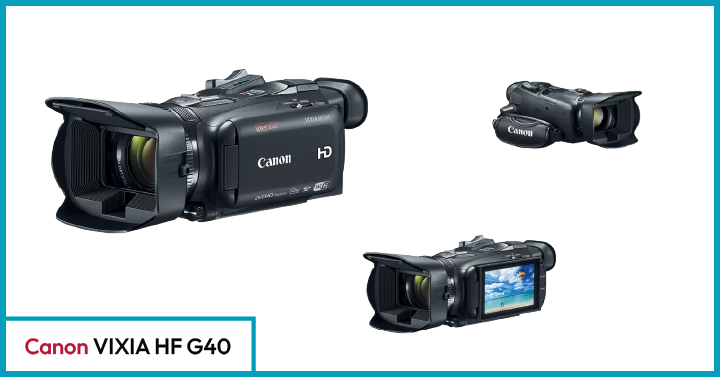 Of course, a multi-camera production system is only as good as the camera used for filming. The Canon Vixia HF G40 comes with 20x HD zoom, built-in Wi-Fi technology and FTP transfer capability to easily relay the video from camcorder to computer, a 3.5-inch OLED viewscreen and dual SD card slots for storage.
This cam model is also designed to cope well with low light, which is rather handy given Joe Rogan's man cave studio vibe. To truly imitate the master, you'll want several so you can switch between you and your guests, plus adjustable tripods so you can ensure you have just the right angle.
1.11. Computer: Apple Mac Pro & Pro Display XDR
The Joe Rogan podcast equipment setup wouldn't be complete without the computer to harness all the inputs and provide the means to perform post-production on the video and audio feeds as necessary.
Joe Rogan's tech team has gone with Apple's Mac Pro as the main computer, with a 32-inch Pro Display XDR screen. This is complemented with the MacBook Pro laptop, which is used by the production team for any quick research needs or to pull up info or graphics when required.
1.12. Chair: HAG Capisco Chair
Yes, we're going deep dive here by telling you what chair Joe Rogan uses: the HÅG Capisco, made by Norwegian furniture designers Flokk. Marrying style and ergonomic function in a way that only the Scandinavians can, the chair's creator, Peter Opsvik, was inspired by a horseback rider's posture to create the saddle-style seat.
Not only is the chair meant to improve your posture, it's also made with 95% recycled plastic. The model comes in green, beige and ochre, but Joe Rogan has it in – yes, you guessed it – black.
1.13. Desk: Custom Built by Wrightsmith Studios
Want to get your hand on the distinctive desk that forms part of the Joe Rogan podcast equipment? Well, you can't. It is custom built by Wrightsmith Studios, a boutique outfit based in Austin, Texas. Made from white oak, it's 96 inches long and 54 inches wide.
According to an interview with Joe Rogan in 2020, he specifically requested the sizable width so he could stay a little further away from his guests – in particular Mike Tyson.
1.14. Portable Microphones: Blue Yeti USB Microphone/Blue Raspberry Premium Mobile USB Microphone
The final piece of Joe Rogan podcast equipment to mention is the portable microphones. When the big man records outside his signature studio, he's been known to use a couple of different models, but both from Blue Microphones. While the Raspberry is a stylishly retro number, the Yeti is the one to plump for. It's beloved by podcasters the world over thanks to the combination of its compactness and functionality.
Some of its notable features include the multiple pattern selection (cardioid, bidirectional, omnidirectional and stereo), the gain control and the mute button. It's plug and play and works perfectly with both Mac and Windows OS.