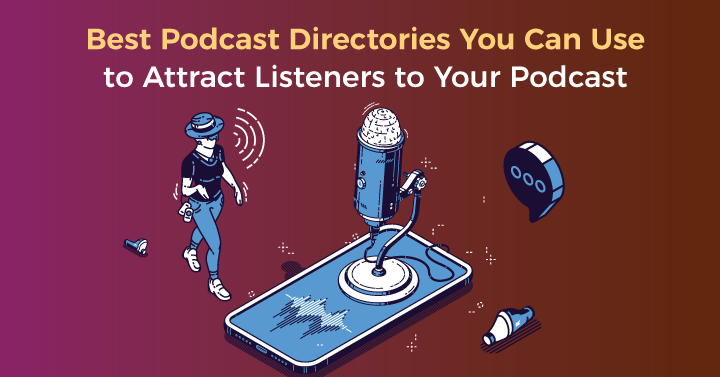 April 4, 2023

By

/

In

Planning and Growth
Are you a budding podcast creator trying to attract more listeners? Then look no further. Podcast directories are the perfect way for podcasters to get discovered by their target audience and grow their listener base. The best podcast directories offer a variety of features, such as subscription options, sharing tools, and analytics.
In this blog post, we'll discuss 10 of the best directories that can help you draw in new potential listeners. From discovering new pods through Apple Podcasts or submitting shows on Google Play Music to filing submissions with Stitcher, learn how each directory works and how they all have something unique to offer your podcast. Now let's begin.
1. What Are Podcast Directories?
A podcast directory is a website or app that allows listeners to search for and find their favorite podcasts. Typically, these are categorized by genre, topic, and language – making it easier for users to find the type of content they want. Podcast directories also provide additional information about each podcast, such as the host, description, and episode list. This makes it easier for users to decide if a podcast is worth their time.
2. How Does A Podcast Directory Work?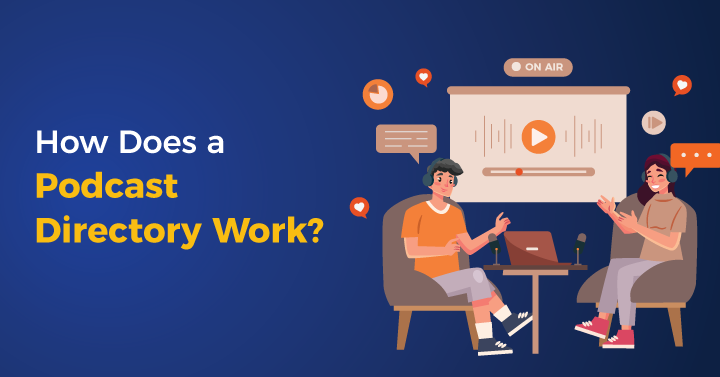 Podcast directories allow users to easily browse and search through numerous podcasts, using categories and keywords to filter their search results. A podcast directory works by providing a searchable database of podcasts. Once a podcast has been identified, the podcast directory often includes additional information about the podcast, such as its synopsis, its genre, host info, episode duration, and more. Ultimately, podcast directories are a fantastic resource for finding new and exciting content.
Users can search for podcasts by keyword, genre, or language. Once the users have found a relevant one, they can click on it to view more information, such as the host, description, and episode list. The users can also listen to the podcast directly from the directory or subscribe to it to be notified when new episodes are released.
3. Why Should Podcasters Opt For Different Directories?
Many podcast directories like Spotify, Castbox, and Stitcher collect episodes from Apple and Google podcasts. For this reason, many podcasters submit their RSS feed to these podcasts and leave. Podcast directories play an essential role in podcast promotion, connecting podcast creators with a potential audience. By opting for the top podcast directories, podcasters can increase the visibility of their shows and make it easier for audiences to discover their content.
Besides allowing podcast creators to maximize their reach, different podcast directories also offer resources like analytics, podcast hosting, and podcasting tools that can be used to create more successful podcasts. Investing time and effort into registering with different podcast directories can open up new possibilities for creating better audio content and engaging with a larger audience.
4. 10 Popular Podcast Directories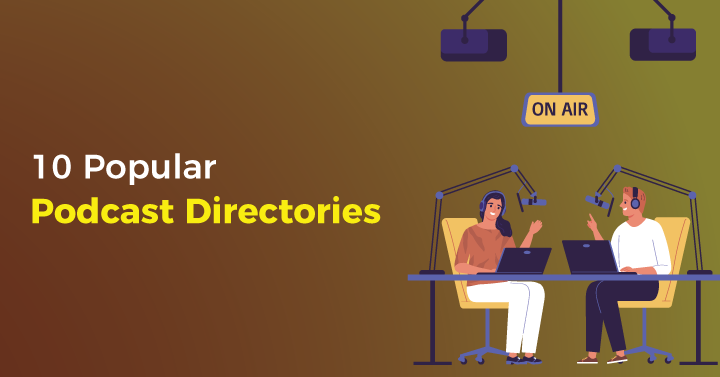 4.1. Apple Podcasts
Apple Podcasts is a podcast directory that allows creators to promote their podcasts. It's integrated into Apple's iTunes software and is available on Apple devices such as the iPhone, iPad, and Mac. It features an extensive collection of audio and video podcasts from various genres, including news, sports, comedy, music, and technology. In addition, podcast listeners can subscribe, stream, or download your podcast offline through the Apple Podcasts app.
To get a podcast listed in the Apple Podcasts directory, creators must submit their show to Apple through the iTunes Connect platform. The show must meet certain technical requirements, such as using appropriate file formats and including certain metadata, in order to be accepted. Once a podcast is listed in the Apple Podcasts directory, listeners can subscribe to it using the Apple Podcasts app or other podcast apps that use the directory. Subscribers will receive new episodes automatically as they are released and can also download previous episodes for offline listening.
4.2. Spotify
Spotify is a music and podcast streaming service that also offers a podcast directory for hosting, promoting, and distributing podcasts. The Spotify podcast directory features a wide selection of audio and video podcasts across various genres, including news, sports, comedy, music, and technology. Users can browse and discover new podcasts, subscribe to them, and listen to episodes within the Spotify app.
Spotify provides tools for creators to track their listenership, such as download numbers, geographic information about their audience, and demographic information. The platform also offers features that allow creators to monetize their podcasts, such as offering exclusive content to paying subscribers and running targeted advertisements. It is an important tool for podcast creators looking to reach new audiences and grow their listenership. With its large user base and powerful distribution and analytics tools, Spotify is a popular choice for many podcast creators.
4.3. Stitcher
Stitcher is a popular podcast platform and free podcast directory that provides access to various audio and video podcasts. With a wide variety of content available, listeners can explore and build custom podcast libraries sorted by genre, network, or even language. t is available on multiple platforms, including iOS, Android, and the web.
Stitcher organizes podcast streams into playlists so users can quickly find topics they're interested in and listen to multiple podcasts without switching between them. Additionally, Stitcher's statistics and user engagement metrics allow podcast creators to be better informed when deciding to improve their podcast content.
4.4. iHeartradio
iHeartRadio is a free, all-in-one digital radio and podcast platform that features an extensive directory of podcasts. The iHeartRadio podcast directory offers a wide range of audio and video podcasts, including popular shows from significant publishers and networks and independent and up-and-coming podcasts.
The platform provides access to over 800,000 podcasts, including original shows and exclusive content from major publishers, networks, and media companies. From genre-focused podcast collections to music stations designed to fit any mood, iHeartRadio allows users across the globe to enjoy their favorite audio entertainment with the press of a button.
4.5. Deezer
Deezer is a popular music streaming service and one of the top podcast directories providing users easy access to millions of podcasts that can be sorted by genre. It is available on various platforms, including web, mobile (Android and iOS), and smart speakers. The mobile application offers a personalized experience and allows users to save albums, songs, or podcasts in their library for limitless replay.
It is available in over 180 countries and has a user base of millions of active listeners. The service also provides a podcast player with customizable playback speed, a sleep timer, and episode downloading. In addition to its podcast directory, Deezer provides tools and resources for podcast creators, including the Deezer Podcast Partner Portal, which allows creators to manage their shows and access analytics about their listenership.
4.6. Amazon Music
Amazon Music is making waves in the streaming media world with its podcast directories. With over a million podcasts, Amazon Music provides listeners unprecedented access to new and long-time favorites. Whether listeners are looking for music, comedy, news, or educational programs, Amazon Music offers an extensive catalog of podcasting options across all categories.
The directory offers a range of tools and recommendations to help users discover new and relevant podcasts, including a search function, curated playlists, and personalized recommendations. With its all-inclusive podcast offering and user-friendly design, Amazon Music is quickly becoming a destination for podcasting fans everywhere.
4.7. Google Podcasts
Google Podcasts is a free podcast player and directory available on Android and the web. The Google Podcast directory contains thousands of popular and niche podcasts, including audio series and programs on various topics, such as news, sports, entertainment, politics, technology, and many more. You can search for and subscribe to podcasts, download episodes to listen offline, and receive notifications when new episodes become available.
Create a Google account to keep track of your subscribed podcasts and listening history, making it easy to resume listening to a show they previously started. The best thing is that Google Podcasts integrates with Google Assistant, allowing users to control playback and discover new shows using voice commands.
4.8. The Podcast Index
The Podcast Index is an open, shared directory of podcasts. It is maintained by a community of volunteers and provides a central metadata source for podcast search and discovery. The standardized metadata provided by the Podcast Index makes it easier for users to search for and discover podcasts and for platforms and directories to provide more relevant search results. Also, the Podcast Index provides an open API, allowing developers to build tools and applications that use its metadata. By providing a centralized repository of podcast metadata, the Podcast Index makes it easier for podcast directories to surface content to users.
4.9. Castbox
Castbox is a podcast player and directory available on Android, iOS, and the web. It features an extensive library of audio content, including podcasts, radio shows, and audiobooks. Users can search for and subscribe to podcasts and receive notifications when new episodes become available. In addition, the directory includes popular and niche podcasts on various topics, such as news, sports, entertainment, politics, and many more.
Castbox also has a user-friendly interface, making it easy for podcasters to upload, manage, and publish their shows. Additionally, Castbox provides a wide reach and distribution network, making it easier for podcast creators to reach a larger audience. Castbox also offers its podcast hosting and monetization platform, Castbox Creator Studio, for podcast producers to distribute and monetize their content.
4.10. Castro
Castro is a podcast player and directory available on iOS. It features a simple, intuitive interface and allows users to search for, subscribe to, and listen to podcasts. In addition, Castro offers automatic episode downloads and notifications for new episodes and will enable users to control playback speed and manage episode downloads.
The directory includes popular and niche podcasts on various topics, such as news, sports, entertainment, politics, and many more. Castro also offers advanced playback features, such as Smart Speed, which adjusts playback speed to eliminate dead air, and Voice Boost, which normalizes volume across episodes.
5. FAQS
Is there a directory for podcasts?
Yes. There are several directories for podcasts to submit your podcast. Some of the top podcast directories are – Spotify, Google Podcasts, Apple Podcasts, and Castro.
How do I get a list of podcasts?
You can find the list of podcasts on reputed directories like – TuneIn, Amazon, Apple Podcasts, Amazon Music, and Audible.