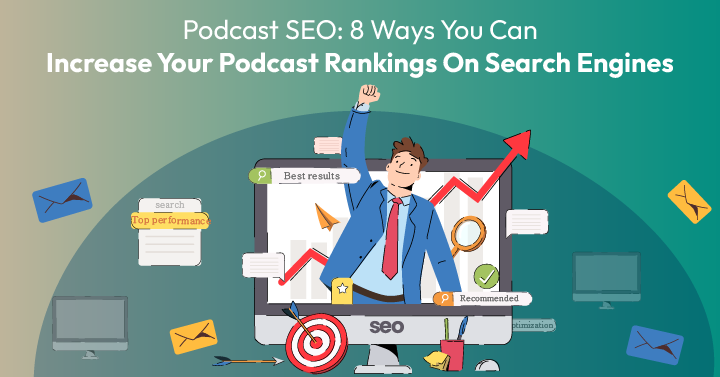 April 11, 2023

By

/

In

Planning and Growth
Whether you're podcasting for passion or podcasting for money, attracting listeners is usually the top priority. One of the best ways to do this is through savvy use of search engine optimization, also known as podcast SEO.
So, what is SEO and why is it important? In this blog, we'll explain the essential concepts you need to wrap your head around, as well as 8 easy ways you can use the practice to improve your podcast's ranking on search engines.
1. What Is Podcast SEO?
Podcast SEO refers to the process of optimizing your podcast content and its associated metadata to make it more discoverable and rank higher in search engine results pages (SERPs).
Podcast SEO involves various techniques, including optimizing your podcast title and description with relevant keywords, creating high-quality episode transcripts, adding relevant tags and categories, and promoting your podcast through various channels.
2. Why Is SEO Important for Podcasts?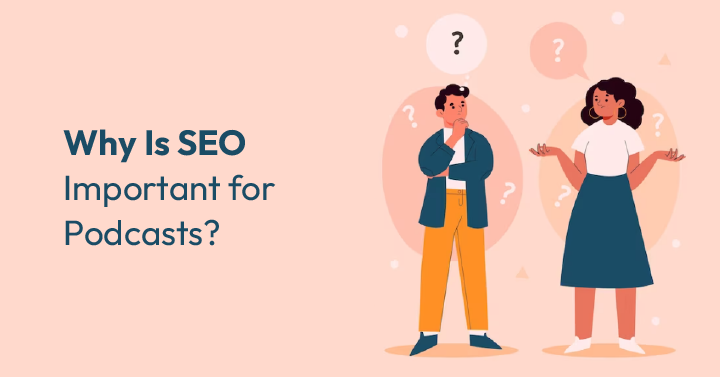 Essentially, SEO is one of the most pertinent answers to that perennial podcaster question: how do I attract more listeners to my podcast? Utilizing podcast SEO best practices, you can ensure your podcast is ranked as highly as possible by Google's algorithm. This in turn will lead to more organic views, enabling you to grow your audience without having to invest in ads or other paid content.
The bigger your audience, the more options you'll have when it comes to podcast monetization. After all, whether you are looking to secure a sponsorship deal or join an advertising network, you'll need a healthy chunk of subscribers to make a decent wage.
3. How Can You Optimize Your Podcast for Search?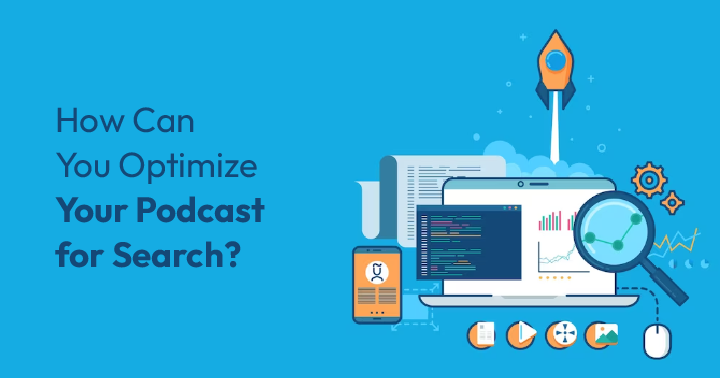 3.1 Make a podcast website
Creating a home for your podcast is a pretty basic but essential step towards improving your podcast SEO. Your show needs a dedicated online presence, where you can describe its theme and the kind of content you're creating.
Don't confuse your podcast website with your podcast page on a hosting service. While ensuring your show appears on the Spotify, Apple and Google podcast channels will certainly help disseminate your episodes, an individual website gives you more control over the format and keywords, which also means you'll be able to better improve the SEO.
For example, your website can include features like a landing page, detailed descriptions of each episode, transcripts of all your recordings and blogs that discuss related topics – all of which can help improve your podcast SEO.
If your podcast is just one part of an overarching brand, you don't necessarily need to create a whole new site from scratch. Instead, you can just build out a subdomain or separate page devoted to your podcast, as the New York Times does with The Daily.
3.2 Optimize your podcast's description
Your podcast description can appear in lots of different places, including on hosting services, social media profiles and, of course, the dedicated website. The podcast description should clearly explain what the show is all about. Keep the sentences short and punchy, as this improves readability. Don't forget to include a handful of keywords that you want to associate with the podcast – this is incredibly important for search results, but also needs to appear natural rather than forced.
Just because you can write thousands of characters in your description doesn't mean you should. Try and keep the length to about 150 to 250 characters, or approximately three short sentences. Basically, about the length of this paragraph.
3.3 Pick podcast keywords for every episode
One of the most important podcast SEO tools is Google's Keyword Planner. This will help you pick the most appropriate keywords to include in each episode.
There are two complementary ways to use Keyword Planner. The first is to employ the 'discover new keywords' feature, which will suggest appropriate words or phrases to include based on a topic you are looking to cover (e.g., podcast news). The alternative is to enter the 'get search volumes and forecasts' interface. This allows you to input keywords you already have in mind for your episode to see how they stack up.
Both these functions will provide you with some basic data about your set of keywords, including overall search volumes, changes in popularity over time and level of competition. If you then want to refine your results, you can drill down into criteria like geographic location and language.
While Google's mechanism is the most popular choice, there are other podcast keyword generators you can use as well, both paid and unpaid. For example, companies like Moz and Semrush, which specialize in SEO marketing, also have keyword gadgets as part of their offering.
3.4 Utilize keywords in the audio content
While there is some debate about how successful Google's indexing of audio content is at the moment, the search engine has previously announced it is trialing the ability to parse spoken words for its SERP. It therefore makes sense for podcasters to try and include their keywords in their scripts as much as possible.
Another thing to consider is including transcripts of your podcasts alongside the audio. Several popular podcasts currently do this, including This American Life. This is done to improve accessibility but also because it helps Google understand the content – which in turn will make it more likely to rank your podcast highly for related searches.
3.5 Use keywords in all the important places
It might sound like we're yammering on about podcast SEO keywords, but they really are one of the most impactful ways you can boost your position in results pages. It's particularly important to include keywords in place like the title of the post, the title of the episode and the episode notes, as these parts of a page are given greater weight by Google in SERPs.
Don't forget to include keywords in less obvious places like the URL, the image file names and the image alt text, all of which are scanned by Google when it's indexing your website's pages.
3.6 Make shorter episodes
Shorter episodes around one key topic work well on search engines. At the end of the day, most people use Google because they want a fairly snappy answer to a question. If your podcast episode can conform to that, Google will rank it higher.
Another way to look at shorter episodes is to think of them as one long episode broken into 3 or 4 parts. Clustered episodes around one theme help Google classify your podcast content better, which in turns means it's more likely to rank it higher for related searches.
Of course, if your podcast format doesn't lend itself to shorter episodes, don't feel as though you have to edit down its length. At the end of the day, you don't want to sacrifice your unique proposition purely for one aspect of SEO.
3.7 Write articles/blogs based on episodes
Creating articles around your shows is a tried-and-true way to improve podcast SEO. This could simply be pieces of your episodes repurposed into digestible blogs. After all, if you're already making great content, why not disseminate it across different media?
Alternatively, you can create complementary articles for your podcast's webpage that will help drive traffic towards your episode releases. This is obviously a slightly more time-consuming option but does mean more value-added content to attract Google's attention as well as the attention of potential listeners.
3.8 Promote your podcast on social media
Social media does not directly contribute to the SEO of your podcast. However, increasing your visibility will get your content seen by a wider audience and increase your brand reputation. Indirectly, this has been shown to have a link to higher SERP rankings.
One thing to consider when taking this approach is to make your social post is as alluring as possible, whether through eye-catching imagery, short clips or snappy descriptions. The more people that click through, the better you can grow your audience and improve your SEO.
There are lots of different channels you can utilize to consider, from Twitter to Facebook. If your podcast is more business or finance focused, you could even share an episode link to LinkedIn.
4. FAQs
Yes, podcast SEO exists and is an essential part of marketing your show. Through savvy utilization of SEO, you can organically boost your listening numbers and build public engagement with your content.
What are podcasts in off page SEO?
Off-page SEO refers to practices that help boost the search ranking of your podcast outside of your web page. Common ways to implement this are through backlinks, social media marketing and guest blogging on other sites.
How do I choose keywords for my podcast?
Google's Keyword Planner is a great, free tool that you can use to discover keywords related to your topic, as well as what people are searching for by volume. There is also similar software available from SEO specialists like Moz and Semrush.