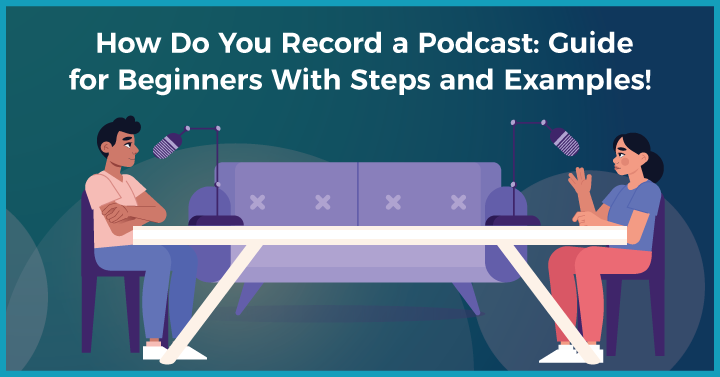 March 17, 2023

By

/

In

Planning and Growth
So, you decided to create a podcast. That's a great idea. At the end of 2022, there were about 424 million podcast listeners in the world. So, this is one bandwagon that you should definitely jump on. Podcasts are the future or the present, depending on how you want to look at them. The point remains they are a great niche to invest in. But there is always hesitation before starting something new, and the question in your mind must be, How do you record a podcast? What is the first step?
We are here to help you answer all that and more. Also, don't miss our handy checklist that's a great way to kick-start your first podcast recording.
1. 7 Easy Steps to Follow When Recording a Podcast
1.1. Plan the Topic
It is a very simple process. Determine who you are talking to, and then go from there. Keep it simple. If you are covering an incident or something that happened in the past, break it down into different chapters. Kind of like a book. That will help you create a structure and outline of the flow of your show.
The first step on your path to recording a podcast is to create a plan for the topic that you are choosing to cover. The best equipment in the world can't help you out until you have a clear topic that you talk about. An episode plan can go a long way in determining the quality of your podcast. Start with a topic that you know about, as that will make your conversation flow better while recording the podcast.
1.2. Prepare the Podcast Outline
Your podcast needs an outline, kind of like a script. So, begin with doing keyword research as that is how you will increase the searchability of your piece. The next step is to decide whether or not you want a guest on your podcast. If you decide to have a guest, it is best if you send them a list of questions beforehand. If you are planning on doing it all by yourself, then create a list of talking points that you will cover while recording your podcast.
This is a double-edged sword in a way because scripting can make your episode value-packed and sleek, but if you aren't careful, you can overdo it and dampen your personality and spontaneity which makes every podcast special.
But you still need an outline because you will be able to communicate your thoughts better, not ramble during your podcast, and also manage to keep the attention of your listeners. Don't script every line. Just a roadmap of how the audio will go when you begin talking on the mic.
1.3. Get Your Equipment in Order
If you are starting out then you do not need a fancy setup. You will be surprised to know that a number of people use their mobile phones for their first podcast. However, there is a simple list you can check out if you want to go a step further.
2. Your Podcast Equipment Checklist
Headphones
Microphone
Audio Interface or Mixer
Camera (if also recording video)
2.1. Headphones
Headphones are an essential part of every step of podcasting. You need them to keep track of your voice while you are recording.That will help you make adjustments to how you sound while you are still in the process of recording your podcast. The next thing you need it for is to edit the podcast. Editing is a long process, if you take care of how you sound during the initial recording, it becomes a lot easier to work on later. Then finally, of course, you need headphones to listen to the final product.
2.2. Microphone
A recording device is essential since you need your audio to be of great quality for your podcast. You can use your phone, but it is advisable to use a microphone. The best part is that you do not need to break the bank to get a microphone. There is something for every budget out there. A good podcast is one that provides good quality audio to the listener, a microphone helps you get good audio without any unnecessary disturbances.
2.3. Audio Interface/Mixer
An audio interface/mixer is the equipment that allows you to convert your recordings into a digital format for you to be able to edit your raw recording. If you do not want to invest in a mixer, get a USB microphone, as it automatically stores your audio in digital format. But if it is an XLR Microphone, get a mixer, as they need the power to be able to operate properly. A mixer provides your mic with phantom power and helps it work well. Another reason why you need a mixer is that it helps you convert the analog recording to digital so that you can edit it later.
2.4. Camera (if also recording video)
To gain more traction for your podcast, you can go for a multi-channel approach. This means that when you are recording the audio for your podcast, you can shoot the video as well. You can then edit it and upload it on platforms like YouTube, Facebook, TikTok, and Instagram to drum up interest for your podcast.
3. Software To Use
With the help of these platforms, all you have to do is upload your podcast once and they ensure that it is available wherever people get their podcasts like Spotify, Apple Podcasts, Google Podcasts, and even Amazon.
It is important to pick the platform before you record your podcast because your chosen platform will decide the format your audio file will be in (MP3, WAV, etc.). The software also refers to the editing software you will be using. These can be free like Audacity and Sticher or paid like Podcastle and Adobe Audition.
4. Pick a Place to Record
The next step is to decide on a place where you want to record your podcast. Remember that the acoustics play a big role in the quality of your recording which is why quite often you hear people recording in closets, it's because of the acoustics. The beauty of a podcast is that you can record it anywhere you want. So, your home will be just fine.
If you are looking to create a podcast with the best audio then a studio is the best. A studio usually comes fitted with a number of high-quality pieces of equipment, which makes it easier to record. If you can't make it to a studio then a close second is to record in a closet. A closet has a number of sound absorbers, and they also help you eliminate background noise.
5. Record and Export the Audio File
Time for the fun part of the process! Record your podcast. Keep track of the outline that you have created and stick to it while talking. At the same time, give yourself some amount of breathing space to ensure that you do not create something that sounds too robotic in nature. You want people to listen to you, for which you need to have a welcoming upbeat sound,
The format that you decide to export the audio file in is your choice. Our recommendation is to stick to MP3 as that is the most widely accepted format. Even Apple Podcasts use that.
6. Edit and Upload!
How much you want to edit is completely up to your choice. Just remember that no matter how good your raw files are, people would be less than thrilled to sit through them. So, add a little bit of pizzazz to your podcast with a nice intro and some music. Also, remember to create a flow of how you want your podcast to sound.
Finally, it is time to put your podcast out there in the world. Upload the podcast on the podcast hosting service of your choice, and that's it. All you need to do now is repeat the process for the next episode.
7. A Checklist For Your First Podcast
Zero down on an idea
Create a rough draft of the first few episodes
Have a discussion with friends and family to refine your idea
Pick your audience persona
Decide on your introductory episode
Check if you need a guest host or not
Time to write a script
Gather your equipment (as a first timer the phone is perfectly fine)
Decide on a podcast hosting site
Record your podcast
Edit your podcast.
Create an intro
Upload the file
Do it all over again!
8. How Do You Record a Podcast?
8.1 How Do You Record a Podcast on Spotify
Step 1: Create a Spotify account. To be able to use Spotify to upload your podcast, you need an account.
PS: Remember that Spotify is not a podcast hosting platform and you will not be able to record a podcast on the platform, but rather you will upload your podcast here once you have created it. Spotify has its own podcast hosting platform Anchor.fm where you can record, shard, and edit your podcast.
9. Your Spotify Podcast Checklist
MP3 needs to be ISO/IEC 11172-3 MPEG-1 Part 3
Cover art needs to be in a square ratio (1:1) (Kind of like the original Instagram)
The cover Image needs to be in PNG, JPEG, or TIFF format
The RSS feed needs to be updated with a title, cover art image and other details for at least 1 episode
Keep your consumer-facing fields ( episode title. Etc) less than 20 characters
Episode size needs to be less than 200MB (roughly 83 min at 320kbps)
Step 2: Copy your RSS feed link.
Step 3: Open Spotify for Podcasters and log in to get started. Then paste the link to your RSS feed. You will then receive a code via email to verify that you own the podcast.
Step 4: Add your podcast information. This includes the country, primary category, and primary language.
Step 5: Review all the information that you have filled out and then hit submit, Once you submit your podcast it will be live in a couple of hours, You do not receive a notification when your podcast goes live so keep a track through your account,
9.1 How Do You Record a Podcast on Zoom
Step 1: The first thing you need to do is download the Zoom app for your device.
Step 2: It is advised that you get a microphone and headphones to get a good-quality recording. Since you will have guests ask them to get a microphone (if possible ) as well.
Step 3: Work on the settings. Zoom is notorious for compressing your audio to reduce the size of the recording but you do not have to worry, a couple of setting changes will get you the best audio.
Click the gear icon on the top right of your zoom application and open the settings.
There locate the audio tab, and choose the following settings;
Suppress Background Noise – Low
Music And Professional Audio
Select- Show in-meeting option to enable "Original Sound"
High-fidelity music mode
Recording
Select – Record a separate audio file of each participant.
Step 4: Create an optimal recording environment by checking your settings. Choose a room where the chance of being interrupted is the lowest.
Step 5: Do a test run with the recording before you begin the actual recording of the podcast.
Step 6: Remember to turn on the original sound ( an option that you will see at the top left of your screen) and then click record. Your zoom recording will automatically download once you hit the end meeting.
9.2. How Do You Record a Podcast on Mac
Step 1: Use Garageband to record your podcast. This application is one that comes pre-installed on your Mac.
Step 2: Once you open the application, select "new project". Under that option, you will see the option for podcasts. Select that option.
Step 3: Select the location where you want to save the podcast. Once that is done, click on create.
Step 4: Once you come to the main screen you will see the number of tracks that are going to record for the podcast. If you are planning on recording just one track, then delete the others.
Step 5: Record your podcast by clicking on the red button, once you are done press the red button again to stop.
10. Pointers On How Do You Record a Podcast
10.1. Timing
The best day to upload a podcast is Tuesday. This will help you reach a larger audience with your podcast. The exposure you get with the right timing is unparalleled as that will help you appear in people's feeds.
10.2. Duration of Your Podcast
Keep your podcast between 15-20 minutes (if you can). This is not set in stone, but keep in mind that the majority of your listeners are going to be people who are commuting to work so you need to be mindful of the duration. .
10.3. Be Consistent
Stick to one episode a week for the first couple of months. You can change the frequency depending on your feedback. Ensure that the content you deliver centres around the category or niche you want to promote to attract a specific audience.
10.4. Be Vigilant
Always monitor the analytics of your podcast, that way you can track relevant metrics and evaluate the performance of your podcast.
11. FAQs
What do you need to record a podcast?
If you are looking to record a podcast, some essentials you need is a microphone, headphones, and a computer to record and edit the podcast.
What is the best way to record audio for a podcast?
The best way to record audio for a podcast is through a USB microphone since it's budget-friendly, portable, and easily available.
Do you need special equipment to record a podcast?
No, you do not need special equipment to record a podcast but it is recommended that you invest in a good pair of headphones and a microphone to enhance the production value of your podcast.
How can I record a podcast for free?
To be able to record a podcast for free you will need to take care of all the steps involved by yourself. From recording to editing as long as you handle all steps by yourself, you will be able to record a podcast for free. There is software that helps you with putting together your podcast. Audacity is a great, easy-to-use recording software. If you are looking for something that offers more options to help you record then the Hindenburg is a great option.