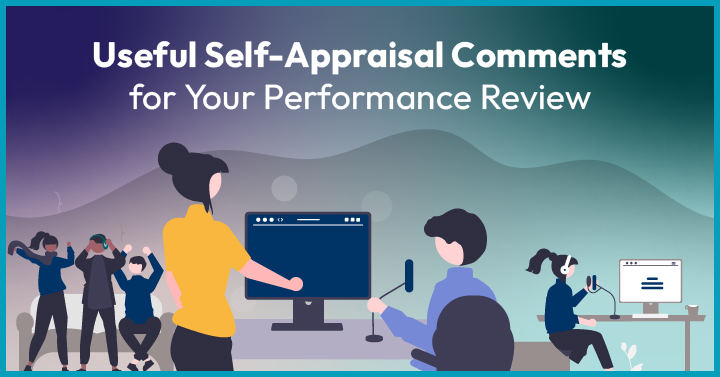 April 6, 2023

By

/

In

Planning and Growth
How much does it cost to produce a podcast? It's a niggling question that stops many people with a great idea for a show, dead in their tracks. After all, the cost of podcasting has so many factors to consider. What equipment should I get? Which software can I use to edit episodes? How much does it cost to put a podcast on Spotify? How much does it cost to host a podcast on Apple, for that matter?
It might all seem overwhelming at first, which is why we've broken everything down into bite-sized pieces to help you get started. In this blog, we'll discuss everything from the mic and headphones to the hosting services and the cover art.
So, how much does it cost to do a podcast?
1. What is the Minimum Cost of Podcasting
Estimating the absolute minimum cost of podcasting comes with lots of caveats. In theory, you can do it for free, provided you already own a pair of headphones and have a laptop. Realistically, though, you'll probably want to invest at the very least in a proper microphone rather than just the computer's in-built device. The bad news is these aren't cheap, with even the basic quality models, such as the Samson Q2U and the Audio-Technica ATR2100, coming in at about $70 to $80.
The good news is that you won't really need to buy anything else if you're just doing your podcast as a hobby. In fact, if you're not too fussed about sound quality, you can probably get away with a headset mic combo for $50. Thanks to the popularity of podcasting today, you can get everything else for free. That includes hosting services where you upload your episodes, as well as editing software that you can use to chop and mix everything together.
If you do have an eye on one day maybe making your show into a genuine source of income, then you'll need to spend money on a proper set of headphones, hosting services with monetization capabilities and other miscellaneous bits and pieces that turn your amateur recordings into professional-level productions. In this scenario, the cost of podcasting will rise significantly, with start-up costs of at least $300 to $400, plus subscription costs for software and hosting that could be an additional $100 to $200 a year, depending on your package.
2. Factors That Will Influence the Cost of Your Podcast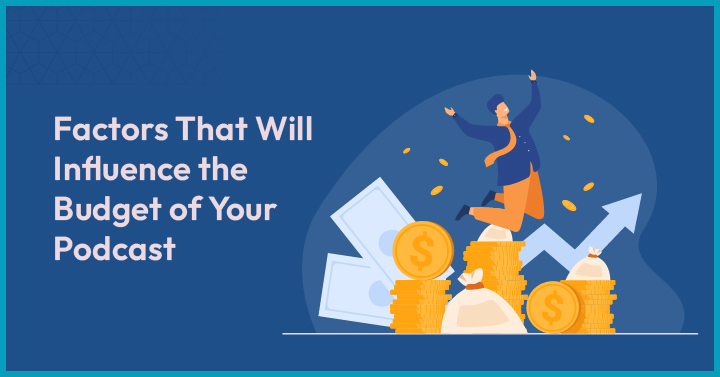 2.1 Podcasting Startup Costs
1. Podcasting Hosting Service
A hosting service is the place you upload and store your podcast. The media files can then be shared using an RSS feed for free to podcast directories like Spotify and Apple Podcasts, where people can listen to your episodes. It is possible to host your podcast on your own website, but since the files are quite large, you can quickly run into problems regarding bandwidth on your server. Instead, it's often easier to sign up for a hosting service optimized for the purpose. Additionally, these usually come with built-in monetization features to help you start earning cash.
One of the best and most popular options for hosting is Podbean. The company's paid plans come with unlimited bandwidth and storage as standard, as well as an easy publishing platform that automatically distributes your show to the main podcast directories. There's also a data analytics platform that allows you to track downloads by geography, time of day and source.
Prices start from $9 a month, which includes access to the ads marketplace, premium ads and dynamic ad insertion. If you're just getting started or want to try out Podbean before you buy, the free version comes with 5 hours of storage space and 100GB of bandwidth per month – just bear in mind this has no monetization options.
2. Desktop Computer/Laptop
You'll need somewhere to store your raw recordings, produce your shows and upload your podcasts. There are a number of questions you have to ask yourself here. The first is, computer or laptop? There are pros and cons for both. Many people today prefer laptops because they are portable, meaning you have more flexibility around where you record. However, computers tend to have more processing capability, which is handy if the digital audio workstation (DAW) you are using to edit your podcast requires a lot of capacity.
Your choice of DAW might also have an effect on another key decision: Apple or PC. While most of the top choices today work on both, some are only designed for one or the other, so make sure you take that into consideration before you purchase.
There are so many perfectly fine options on the market. From the Apple side, the MacBook Air is a classic choice. It's a smidge cheaper than the Pro at $999, and still boasts an 8 Core CPU, 16 gigabytes of RAM and 2 terabytes of storage. If you're looking for something a bit more affordable, the Acer Aspire 5 is less than half the price at $379.99. The tradeoff is that it has less RAM, CPU and storage, though certainly enough for a podcast. Bear in mind, though, that if you intend to add video production tools into the mix, you'll certainly want a more powerful machine.
A new computer/laptop will be the most expensive cost of podcasting, so make sure you carefully consider whether you need to buy a new one at all. It might be that your existing device will work just fine – at least when you're starting out.
3. Soundproof Recording Environment
You don't need to splash out on a professional studio, but you will want to make your recording environment as conducive as possible for good acoustics. There are some simple things you can do to engineer this, such as sealing air gaps and recording in a small room to reduce echo. You wouldn't be the first podcaster to make their first shows in a blanket-lined closet.
Equipment like bass traps and acoustic panels can help absorb high, mid and low frequencies as well as deaden reverberation. Auralex is a well-regarded brand for professional soundproofing equipment, but their bass traps will set you back at least $100 for two. Instead, you might prefer the much more affordable 12 pack of JBER foam panels for $18.99.
2.2 Podcast Recording Equipment Costs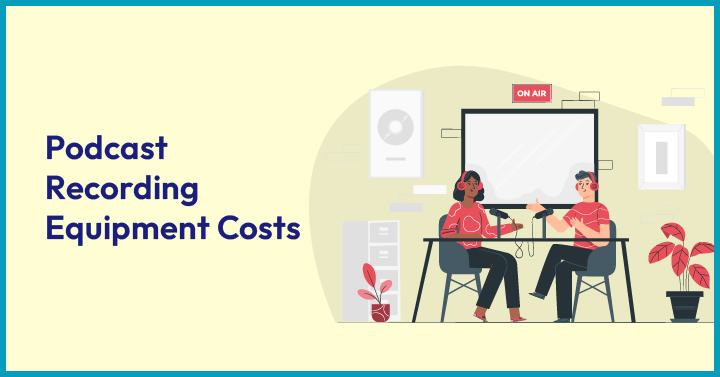 1. Microphone
A good microphone is arguably the number one piece of equipment you need to purchase as a would-be podcaster. A quality mic translates to top-quality sound and greatly reduces the need for soundproofing equipment. As a general rule, you'll probably want to opt for a dynamic microphone with a cardioid polar pattern. This type of mic is designed specifically to pick up only sounds coming from the front while shutting out ambient noise.
Depending on the format of your show, you may just need a single microphone. However, if your show has a couple of hosts or you plan to feature regular interviews, you will obviously need to purchase more. Another consideration is whether you're going for a USB mic, which plugs directly into a computer/laptop, or an XLR mic, which has a cable that connects to a recording device or mixer (scroll down for more on this equipment).
The Shure SM7B is the gold standard for voice recording, but it's also a whopping $399. For a happy medium between quality and price, the Blue Yeti is a solid choice at $129.99. While it is a condenser mic, it's got the versatility necessary to function well for podcasters. Plus, it's a USB mic, which means it plugs directly into your laptop.
2. Headphones
Podcasters need headphones so that they can hear themselves speak. This helps you to gauge whether there are any sound issues that need to be addressed. A secondary benefit is that headphones block out other noises, so you can focus on what you are recording. For this reason, the best option is usually to go for closed cup headphones over ear buds.
A reliable professional choice is the Sony MDR-7506, which boasts a well-balanced, crisp sound and comfortable ear pads. While it's listed at $130 on Sony's official website, most places sell it for closer to $90.
On the cheaper end of the scale, the Audio-Technica ATH-M20x is an excellent budget option at just $49. If you want to go top of the line, however, the wireless Bose QuietComfort 45 features noise-canceling tech and excellent sound quality for $329.
3. Video Camera
You'll need to factor in filming equipment into the cost of podcasting if you intend to feature video alongside the audio. This has become a popular way to add personality to shows, a prominent example being the Joe Rogan Experience. You can also then access a wider audience through platforms like YouTube.
There is some debate over what resolution your video should be. On the one hand, the higher the resolution, the crisper the picture, which is obviously desirable. On the other hand, the higher the resolution, the larger the file size, which can lead to you needing more expensive equipment to store and process the video. As a result, you probably want to aim for about 1080p if you're just starting out, especially since podcasting is still primarily an audio format.
Whether you opt for camcorders, webcams or digital still cameras really depends on your podcast. If you are often interviewing people face to face, for example, a couple of camcorders might be the best option. If it's just you, a webcam such as the LogiTech Brio could be more convenient, more affordable and still provide high enough video quality.
4. Miscellaneous Podcasting Accessories
There are numerous little things that you'll probably need in addition to the main pieces of equipment. These will mean a slightly larger upfront cost but will make your life just that little bit easier. These include microphone stands, camera tripods, USB and XLR cables, a pop filter for your microphone to reduce ambient noise and a headphone amplifier to boost the sound.
5. Audio Interface
An audio interface turns analog signals from mics into a digital format that your computer can utilize. They also provide headphone outputs and dials to adjust the sound slightly. For mics with XLR cables, you will definitely need one, but if you have a USB mic, it's not strictly necessary, since you can make a direct connection with your PC or laptop. However, it may improve the sound quality.
The Focusrite Scarlett 2i2, now on its third generation, has long been a popular option with podcasters. Sold for $179.99, it has two independently controlled XLR inputs and a headphone output, as well as built-in preamps.
For more professional audio manipulation, you can purchase a mixer that includes an audio interface. This is a more complex piece of equipment but allows you greater control over the recorded sound, which can mean you'll need less editing later on.
2.3 Podcasting Software Costs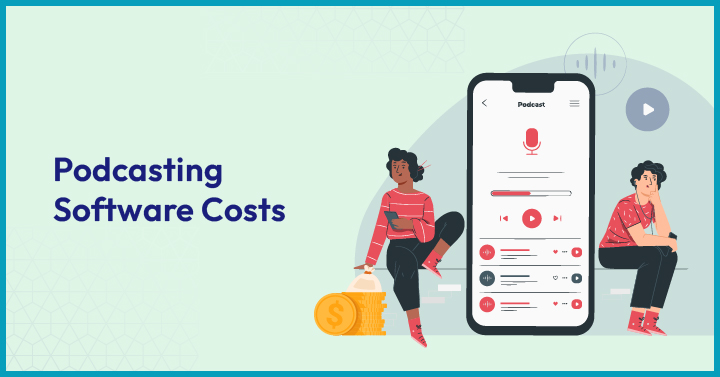 1. Podcast Editing Software
In an ideal world, your podcast would be ready to go straight from recording. Realistically, you're going to need to edit it. This is where podcast editing software comes in, helping you to cut down the length, remove segments that don't flow, improve audio quality and add in any music or other additional media.
There are a lot of DAWs that can help you with this on the market, but Audacity is far and away the best free option. It may not have the prettiest interface, but it has all the needful features. Adobe Audition has greater functionality but also involves a steep learning curve and costs $20.99 per month.
If you want a professional touch and have the budget, you could look into podcast production services pricing from Podcast Engineers or freelance podcast producer rates on sites like Upwork.
2. Remote Recording Software
The pandemic gave an enormous boost to remote recording software, which allows podcasters to record chats with people around the world without the kind of delay or interference you're dogged with on Skype, Microsoft Teams and the like.
A key feature of a good remote recording software is that it records both sides of a conversation separately. This removes issues related to poor connectivity and enables more seamless audio syncing.
SquadCast is a reliable piece of remote recording software that works for both audio and video. Prices start at $20 per month, the more expensive tiers offering more recording hours and more integrations with DAWs.
2.4 Additional Expenses
1. Voiceovers and Music
You probably won't want to use a professional voiceover artist for your whole podcast unless you are creating one for your business. However, sometimes people opt to hire somebody experienced to read intros, outros or ads. This could cost anywhere from $100-499 for a couple of minutes, though you can find cheaper rates out there from semi-professionals.
Similarly, adding music can make your podcast sound more legit but also means paying a licensing fee for tracks not in the public domain.
2. Cover Art
Another little touch that can lend your podcast a polished appearance is cover art. A lot of newcomers design their own art for free through Canva, and this is definitely recommended if you have an artistic temperament. However, you can also hire somebody to do it for you through sites like Fiverr from just $10.
3. Advertising
If you really want to boost the presence of your show, you'll need to factor advertising into the cost of podcasting. There are a lot of podcasts out there today, and just being listed on a podcast directory is unlikely to help you stand out from the crowd. Of course, there's a certain amount you can do for free on social media, but you might also have to invest in paid posts on Instagram or Facebook.
4. Podcast Websites
Your podcast needs a home. If you want to do this for free, you could always register with a site like WordPress. However, you can add a sheen of professionalism by purchasing your own domain, which typically costs $10 to $20 per year. You can always start off with a free WordPress site and then upgrade to your own domain if it goes well, but bear in mind that changing your web address could lose you listeners.
3. How to Save Your Expenses When It Comes to Podcasting?
There are lots of ways to cut back on the cost of podcasting. First, opt for the cheaper end of the spectrum when it comes to mics and headphones. Use the computer you already have rather than purchasing a new one, and find a free space that has reasonable acoustics so you don't have to pay for soundproofing. When it comes to hosting services and editing software, there are several free (or nearly free) options available now online. Finally, things like voiceovers and cover art can all be done by yourself at no additional cost.
4. FAQs
How much does it cost to produce one podcast episode?
The cost of podcasting an episode is impossible to estimate because it varies massively depending on the equipment and services you've purchased to make it. You also need to consider that if you pay $8.99 a month for, say, hosting services and then make an episode a week, the cost per episode will work out cheaper than if you only make one episode a month.
How much do podcasters make per podcast?
Estimates vary wildly. Podcast hosting service Buzzsprout suggests an average podcast with 5,000 downloads can make around $100 a month based on CPM, while rival Castos suggests a much more lucrative $4,925 for the same number of listeners if you can successfully capitalize on several revenue streams.
How much do podcast hosts get paid?
If you manage to attract an offer from Spotify, potentially millions. Realistically, though, podcast host earnings are based on the success of their monetization strategy, whether that's through paid membership or sponsorship deals.