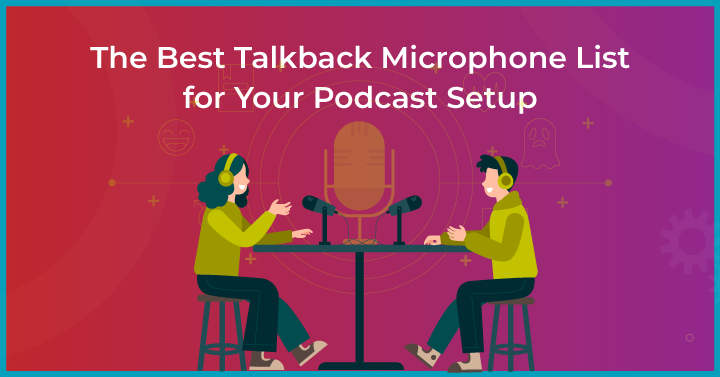 March 9, 2023

By

/

In

Equipment
A good podcast needs to have a number of different components- a good premise, an engaging host, and good quality equipment to help you actually create the episode. A talkback mic is one such piece of equipment that you need to be able to deliver your best, The best talkback microphone is one that does not catch too much of the surrounding sound and the raw voice file that you end up with is clear and allows you to edit and create your podcast easily.
When you go through our list, you will find we have listed microphones accommodating different price points for you to pick from.
1. What Is A TalkBack Mic Used For?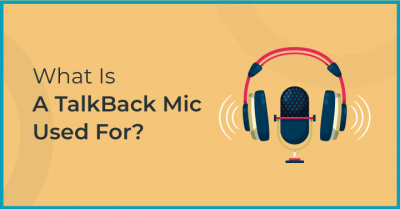 A talkback microphone is used to record your voice for a podcast. It is essential for quality communication, the cornerstone of a good podcast. When it comes to podcasts, you want a good talkback microphone since you will be recording your voice, so you need something that does not pick up too much ambient sound and allows your voice to take center stage.
As a critical part of an effective communication channel, it is important to pick one that is high quality but at the same time not very expensive as, at the end of the day, these are omnidirectional microphones, i.e., they only foster one-way communication. So, it is important to find one that is effective and not exorbitant.
2. Best Talkback Microphone
2.1.  Electro-Voice RE20
If you are looking to purchase an industry-standard microphone the
Electro-Voice RE20
is the best talkback microphone. It has long been a favorite for people in broadcasting, sound engineering, and podcasting. This premium microphone comes with a heavy-duty internal pop filter which aids in voice work and also features an internal element shock mount which is helpful in reducing vibration-induced noise.
Why We Like It: Well, it is the industry standard and helps mimic the classic sound of FM radio voices which everyone is familiar with. Another great feature is the smooth and controlled sonic character that comes with the microphone.
Price: $449.00
2.2.  Blue Microphones Blackout Spark SL Condenser Microphone
The Blackout Spark SL is the best talkback microphone that can very easily elevate your home studio to a full broadcast-level setup. This professional mic features Blue's custom JFET design that helps provide consistent and transparent sound at all times. This mic has long been a favorite of podcasters, gamers, and streamers The mic features a high pass filter that increases the clarity of the audio and helps remove any distortion that may take place due to the rumble in your room or your desk.
Why We Like It: For anyone looking to explore the higher end of the sound spectrum for their content, this is a great mic. It picks up low and mid tones with ease helping you cut a lot of time that would traditionally be wasted during post-production.
Price: $199.99
2.3.  Audio-Technica AT8010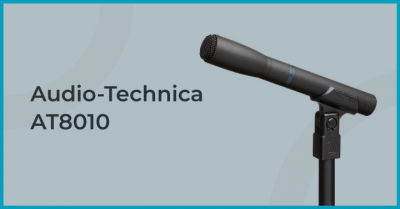 Audio-Technica AT8010 is the perfect fit for musicians. With an omnidirectional polar pattern, you get the maximum ambient sound possible. It has a good sound range that picks up high as well as low notes and not the unwanted background noise that people dread. Choir groups and other musicians have used this particular mic to record demos and podcast audio.
The microphone comes with a protective pouch, a mic stand adapter, and a foam windscreen. So you can easily attach it to any setup.
Why We Like It: This mic is professional and works perfectly for everything from interviews to podcasts. It is also light and highly portable. It is great for musicians because it features an Omnidirectional polar pattern. That helps it pick up even the lowest of vocal sounds in your studio and room. At this price point, it is the best device you can pick up.
Price: $239.00
2.4. Neumann TLM 107
This state-of-the-art Neumann TLM 107 Condenser Microphone provides high-definition sound quality. It features five directional characteristics for better sound recording and an extremely large diaphragm that helps capture sound without any coloration. So, what you end up with is a detailed, high-precision sound file that you can use and edit to create your podcast episode. It features 5 polar patterns, each providing the user with optimal sound settings. Additionally, this is one of the few mics that come acoustically optimized for pop sounds, if that is your jam, making it perfect to help you record vocals for any podcast. It is one of the best talkback microphones on the market.
Why We Like It: This mic has been created keeping in mind home studios. The mic captures all uncolored sound images, which then gives you a lot of options when you move onto the stage of post-processing and mixing.
Price: $1,450.00
2.5.  BEACN Mic USB C Broadcast Dynamic Mic
BEACN Mic has the latest USB C design and is also a wireless microphone with talkback, which means that all the traditional features that come with a sound system do not feature in this. The mic features real-time adaptive noise suppression that helps minimize background noise and get you the best audio quality.
All of your hardware and software plugins are wrapped in one sleek microphone. You get the full range of studio effects like reverb and playback, for which you might usually need a full console to be able to recreate.
Why We Like It: It fits into your existing console setup and is highly customizable. The mic features an RGB ring light that you can switch on to add a little more flare to your studio or you can switch it off if that is not your jam.
Price: $ 279.99
2.6.  Behringer TA 312S Dynamic Gooseneck Microphone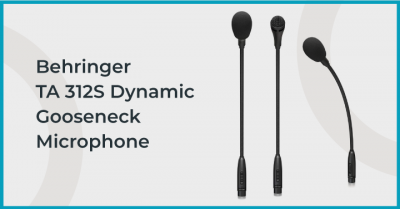 Behringer TA 312S Dynamic Gooseneck Microphone is the perfect talkback microphone for podiums, conferences, and studios. It features a cardioid polar pattern that helps ensure that the background noise is kept to a minimum and only the voice reaches the audience. It is a study mic, but it will work only if you have an existing sound system set up.
This is a podium mic, one that you can easily plug into an existing X32 console and then easily use to record a podcast.
Why We Like It: It's the perfect plug-and-play microphone, so you can easily fit it in a talkback mic setup. You can easily fit this microphone into your panel or desk-mounted female XLR connector. Also, it is one of the most affordable talkback mics you can get. This is the perfect mic for interviews, as iy
Price: $35
2.7.  JLab Talk Pro Microphone
Whether it is streaming, podcasting, or even ASMR videos JLab Talk Pro Microphone is the ultimate professional microphone. Chances are you must have seen this one feature on a number of streamers' desks, and with good reason. It features top-notch volume control along with four directional pattern modes: Cardioid, Omni, Stereo, and Bidirectional. So, depending on what you are looking to record, there is something that will be custom-made for you.
Why We Like It: This microphone can translate to help you create different types of content. It is also a great product if all you want to do is connect it to your computer for conference calls.
Price: $149.00
3.  FAQs
What is the best microphone for a single person talking at a live event?
The best microphone for a single person talking at a live event is the Audio-Technica AT8010.
What is the highest-quality microphone in the world?
Depending on what it is you are looking for, there are a number of high-quality microphones out there. Some of them are Electro-Voice RE20, Blue Microphones Blackout Spark SL Condenser Microphone & BEACN Mic USB C Broadcast Dynamic Mic.
What mic is best for talking?
The best mic for talking is the Electro-Voice RE20. For more options, you can refer to the list above.