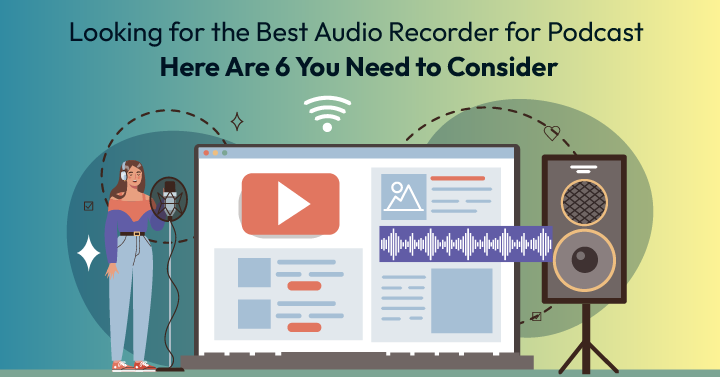 March 18, 2023

By

/

In

Equipment
Considering how crowded the podcast space is, investing in an audio recorder for podcast can make all the difference between creating a good and an exceptional podcast. A reliable audio recorder for podcast is one that will provide you with a high-quality audio file that is compatible with podcast editing software in the market. Picking one, however, requires a certain level of technical expertise which is not everyone's forte.
We are here to help you out and have compiled the best audio recorder for podcast list that you should check out before you make a purchase.
1. What Is An Audio Recorder for Podcast?
An audio recorder for podcasts is a device that helps capture and record audio. The podcast recorder may come in different sizes and designs with a range of features. As a podcaster, we are sure you understand the value of high-quality audio. A free podcast recorder helps you create the perfect raw footage that can easily be used to craft the perfect podcast.
2. Types of Audio Recorders
2.1 Digital
A digital audio recorder is a device that helps you record audio for your podcast. These can be further categorized as handheld, mounted, or attachable These recorders have the capability to do everything from helping you take voice memos to record sound while filming.
2.2 Software/Apps
If you are on a budget, it does not always make sense to invest in a separate piece of equipment for recording sound. In such a case, you can use software or the best voice recorder app for podcast that helps record voice. The podcast audio recorder software or podcast voice recorder app allows you to use the existing infrastructure of your system or mobile to record the sound. You can digitally enhance it in the post-production phase. The quality of sound is not always the best, but it's good enough to help create a good podcast.
3. Things to Consider Before Buying an Audio Recorder for Podcast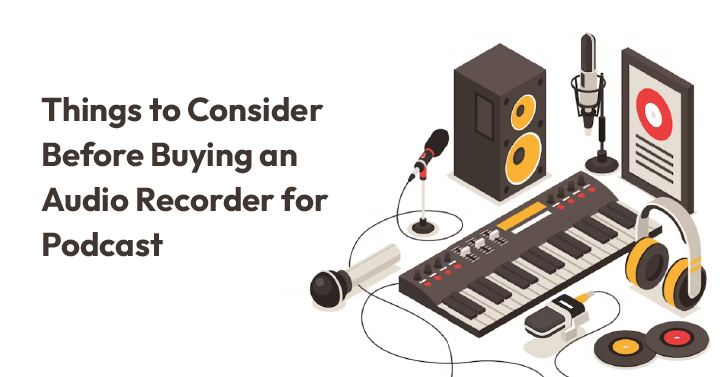 3.1 Budget
The price of a device is an essential factor when deciding what device you have to buy. There is no point in breaking the bank if you are starting out and you need to buy a budget-friendly audio recorder for podcasts that can do a fairly good job..
Depending on the kind of recording you are planning on doing, check the type of microphone that the recorder has and the recording pattern they use to pick up the audio. This can influence the price point of an audio recorder for podcasts. Additionally, if you are looking out for add-on features like audio clean-up or noise cancellation in the recorder, this can further push the price factor.
3.2 Format
The format in which your recorder saves the file is essential to pay attention to since you want to remove the steps and not clutter your workflow. If you record audio in an incompatible format, you will have to change the format first, and only then can you begin work on your podcast. The most widely used format to save audio is MP3. For this particular consideration, check the requirements of the online platform you use to distribute your podcast.
3.3 Capacity
Depending on how much you are planning on recording, you need to be aware of the storage capacity of your device. There are some that come with the option of attaching external storage and others that have built-in storage. Most commonly, you will find that devices come with a 2Gb internal memory and the option to add a MicroSD card for additional storage.
3.4 Portability
This one is the most important if you are planning on recording in the field or on the go then it is essential that your audio recorder for podcasts is portable and light. You cannot travel around with a studio set up. So, portability is a very important factor to consider when you are planning to invest in a separate microphone for recording your podcast.
4. Digital ​​Audio Recorder for Podcast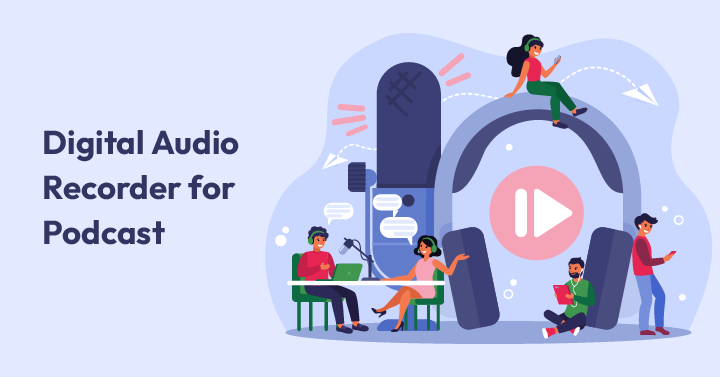 4.1 Zoom H6
If you have a budget that tethers on the higher side,then you should get the Zoom H6. This is often described as a complete recording system that can fit easily into your hand. It allows you to record six people at the same time simultaneously, so if you are someone who records with guests or just in a large group, this is a great mic. You have the option to record in either WAV or MP3. You have to put in an SD card so you can decide on the storage of the device.
Why we love it: It's a versatile piece of equipment you can use for interviews, out in the field, and to even record music. Do you need to spend this much? Probably not. But if you are looking for a high-end recorder, you will be hard-pressed to find better than this one in the market.
Price: $349.99
4.2 The Zoom H1N
From one end of the spectrum to the other, if Zoom H6 is for someone looking for a high-end audio recorder for podcast, then Zoom H1N is perfect if you are on a smaller budget. This is the cheapest portable audio recorder on Zoom's list of products. It comes with a standard 2GB SD card, so you can upgrade it if you need to. The Zoom H1N has long been the industry standard for podcasters. It is the perfect beginner-friendly audio recorder. It does not break the bank, and additionally, you can fit it right in your pocket, making it the right choice if you are planning on going out in the field to record audio.
Why We Love it: This is the mic that you usually see on top of video cameras as a way to get the best sound. It is handy and fits right in your pocket, making it the perfect on-the-go companion.
Price: $99.99
4.3 Tascam DR-05X
The Tascam DR-05 X provides you with the ability to capture two high-quality tracks simultaneously every time you press the record button. It isn't as expensive as some of the other entries in this list and can handle a wide range of sounds. It supports three recording formats BWF, MP3, and WAV giving you a couple of options to choose from. There is no internal storage present in the microphone but it does have a micro SD slot where you can place a card at your convenience. In terms of portability, it isn't as small as a Zoom H1N, but it is still compact enough for you to use out in the field.
Why We Love it: This mic offers external features like a low-cut filter and reverb that help you get a clean audio recording right the first time. It also features multiple power options that are great for long shoots.
Price: $199.99
4.4 Zoom H5 Handy Recorder
The Zoom H5 recorder provides you with all the tools that you need to be able to create professional-quality audio. This audio recorder for podcast records audio in the WAV format, so you can easily edit the audio in other applications if required. This is a 4-channel recorder, so you can record four simultaneous audio recordings in one go. It comes with a standard 2GB micro SD that you can switch out if you need more space. The difference between the Zoom H5 and H4 is about $70, so if you can afford this one, you should definitely consider it
Why We Love it: The mic is extremely sensitive, so it easily picks up nuances in your voice that help create a better sound file for your podcast. Under most circumstances, you will not have any delay in recording as well.
Price:$299.99
4.5 Sony PCM-D10
The Sony PCM-D10 is a great audio recorder for podcast. Its stand-out feature is the mics that can easily be rearranged to change the voice patterns. So, depending on the surroundings, you can easily rearrange the setup, which will help you get the best possible audio file for your podcast. The recorder supports MP3 and LPCM formats which are both great for recording podcasts. It has an internal memory of 16GB and also provides a slot for external memory via a Micro SD card. This is a highly portable recorder that you can travel with. So, if you are looking for a microphone to take out in the field, this is the one.
Why We Love It: This is one of the few microphones that stream directly over wireless headphones. so, if you are looking for live feedback for your recording, this is the perfect microphone for you.
Price: $499.99
4.6 Olympus WS-853
If you are looking for convenience and a great price, then the Olympus WS-853 is a great buy. This device features a dual microphone placement that allows for high-quality audio capture. It supports MP3, which is a universally loved format for audio recordings. You have the 4 GB internal memory as well as the option to put in a micro SD if you need more. It is highly recommended because of its size.
Why We Love It: This audio recorder for podcasts features a voice filter that automatically enhances the spoken word audio making it perfect for recording podcasts.
Price:$59.99
5. FAQs
What is the best voice recorder for podcasts?
The best voice recorder for the podcast is the Zoom H1N and the Tascam DR-05X
Do I need a digital recorder for the podcast?
A digital recorder for podcasts is not a necessity but a recommendation for the best possible sound quality recording.
Can I record a podcast at home?
Yes, you can record a podcast at home.